Grenfell Tower: Man guilty of £40k hotel bill fraud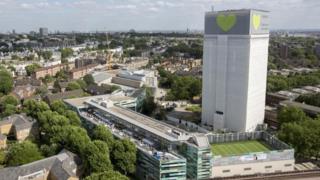 A man has pleaded guilty to pretending to have lost his home in the Grenfell Tower fire to obtain more than £50,000 in support meant for those affected.
Antonio Gouveia claimed he was living in a flat with an elderly woman on the night of the tragedy on 14 June 2017.
He stayed in a £155-a-night hotel in Marylebone for 289 days between June last year and April, the court heard.
Gouveia, 33, pleaded guilty to two counts of fraud by false representation at Westminster Magistrates' Court.
The Portuguese national admitted fraudulently obtaining survivor support worth almost £54,000, including cash, food expenses and a more than £40,000 hotel bill paid for by the Royal Borough of Kensington and Chelsea (RBKC).
The tower block blaze left 72 people dead.
Gouveia also fraudulently obtained a laptop meant for the tenant at the Portobello Rugby Trust last June, when the computers were being given to survivors, the court heard.
'In this mess'
Prosecutor Henry Fitch said: "He attended a post depot and obtained correspondence that had been sent to (the flat). That's how he found out her name.
"He then proceeded to elaborate his account by pretending he knew that person and had been staying with her."
Gouveia's defence lawyer, Davinder Vird, said he separated from his British partner last summer and was kicked out of the family home which "forms a backdrop to how he found himself in this mess".
He will be sentenced on August 31.
Gouveia is the 11th person to be charged with a fraud offence relating to the fire.