Camberwell stabbing: Drill rapper Incognito killed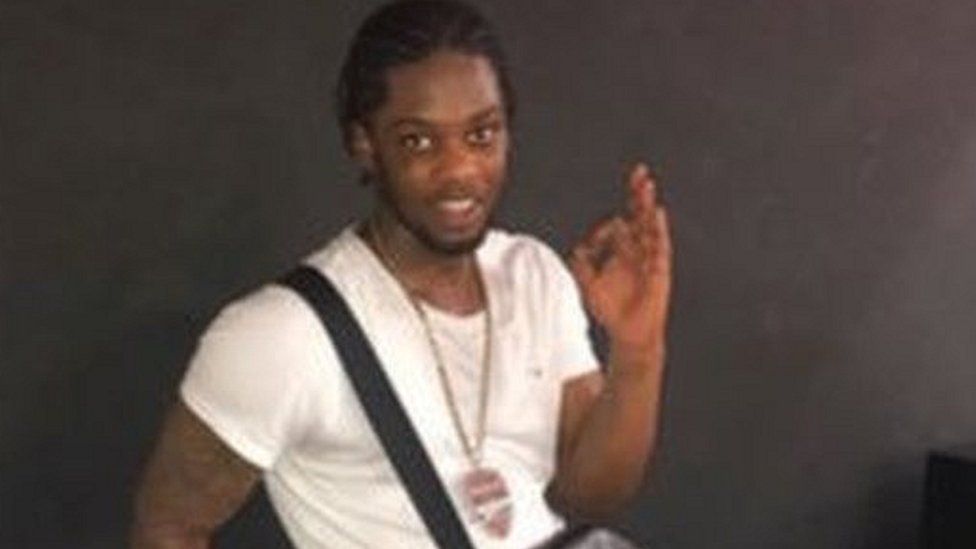 A rapper in London's drill music scene, who was cleared of murder earlier this year, has been stabbed to death.
Three men were found with stab wounds on Warham Street, Camberwell, at 19:20 BST on Wednesday.
Two men are in custody on suspicion of murder. The Met said "one line of inquiry is this being gang-related".
Mr Kamara, 23, was friends with fellow rapper Rhyhiem Ainsworth Barton, who was found with fatal gunshot wounds in Warham Street in May.
Friends have paid tribute to the performer, who was part of the Moscow17 group.
Today we have taken a very sad loss in our member @SK017_ /Incognito , we ask for all prayers be directed towards him & his family 💔

— Moscow Music (@Moscow17Music) August 1, 2018
The Met said he was pronounced dead at the scene.
The two men in custody, aged 18 and 19, were arrested nearby, officers added.
The two other wounded men, aged 16 and 31, were airlifted to hospital, where they remain.
Drill is a dark form of rap music often featuring violent lyrics.
In an interview earlier this year, Mr Kamara spoke about its effect on crime in London.
"You see with the crime that's happening right now, music does influence it. You've got to put your hands up and say drill music does influence it," he said.
"But knife crime and gun crime has been going on way before drill music, so if you want to talk about 10 years, 20 years, people were still getting cheffed up [attacked with knives]."
Incognito's music videos have been watched hundreds of thousands of times on YouTube.
Some feature references to other groups in the capital, including long-running rivals Zone 2 from Peckham.
In one track, Moscow17 tell Zone 2 to "check the scoreboard", while another asks "how you gonna make it even?".
Mr Kamara was accused and cleared of murdering Mr Mohamed - a brother of a member of Zone 2 - alongside another member of Moscow17, Kevin Aka-Kadjo.
Speaking outside the family home, Mr Kamara's father Lamin Kama said: "Our family are in a lot of distress at the moment."
He declined to comment further, adding only that his son had three brothers.
A neighbour, who gave his name only as Andy, said: "My dog was going crazy and when I looked out there was this guy lying on the floor. There was blood."
Andy, who said he has lived in the area on and off for about 15 years, added: "It's getting really rough around here."
Another neighbour, Sidney Virgo, 80, said: "I knew this was going to happen. As soon as kids start gathering that's when something like this happens."
He said his neighbour's son had also been seriously stabbed on the estate just over a week ago.
At the time of his death, 17-year-old Rhyhiem Ainsworth Barton's mother, Pretana Morgan, called for a halt in the wave of violence in the capital.
"Let my son be the last and be an example to everyone. Just let it stop. What must be, must be," she said.
"It's not about race, it's not about nation, it's not about culture. Nothing. It's just a human race."
It is the 85th homicide in the capital so far this year.
A spike in the number of killings earlier in the year saw London's murder rate overtake that of New York, with knife crime a major factor.
Harriet Harman, MP for Camberwell and Peckham, said "anxiety" about recent local violence has now turned to "anger".
She said her constituents believe a reduction in police officers means the area has become "a safe haven for people to carry out their criminal acts".
Related Internet Links
The BBC is not responsible for the content of external sites.