Passer-by who rescued three 'always wanted to be fireman'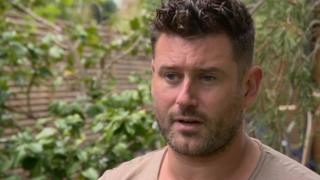 The passer-by who rescued a woman, a man and a baby from a blazing building in north-west London said he always wanted to be a firefighter.
Mick O'Beirne was on his way home on Saturday night when he saw flames coming from a flat above a shop in Pinner Road, Harrow.
He smashed the door down rescuing a mother, her three-month-old baby and another resident.
The London Fire Brigade (LFB) praised his quick thinking and courage.
Mr O'Beirne said he could see smoke coming out from underneath the door and on the roof.
He said he could feel it "getting hot" and told the residents: "We have to get out of here, we haven't got much time".
About one minute later, once he got everybody downstairs and on the other side of the street, he said they could see the roof caving in.
The blaze took eight fire engines and about 60 firefighters to get under control.
There were no reports of any injuries.
Tim Frost, group manager at LFB, said "it would have been a completely different story" were it not for Mr O'Beirne's "courageous actions".
He said: "He did a tremendous job. It was due to his swift actions and quick thinking that he was able to enter the property and get those people out.
"It's absolutely commendable."
Mr O'Beirne is a carpenter and singer who lives a few doors away from the property. He did not know the people he rescued but has children of his own.
Speaking to BBC London, he said: "As a dad, you just think how close it could have been.
"I must have sounded like a bit of an idiot because I kept blabbering on to [the firefighters] that I wanted to be a fireman when I was growing up, and they said: 'Well, you sort of are tonight'."
The fire brigade said the advice is always to call 999 first, which is what Mr O'Beirne did.
The cause of the fire is under investigation.