RideLondon: Cyclists take to wet and windy streets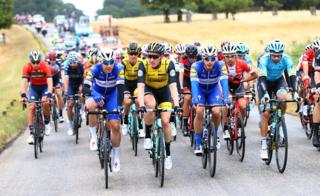 Thousands of cyclists battled the rain and wind to take to the streets of London and Surrey for RideLondon.
The culmination of the cycling festival saw more than 30,000 amateur riders take on different length rides, while 150 professionals raced in the Classic.
On Saturday Kirsten Wild won the women's Classique race and about 70,000 joined a mass FreeCycle in the capital.
Spectators were out to cheer the riders on despite the weather.
Organisers had sent advice to participants about riding in hot weather following the recent heatwave, although it proved of little use.
Amateur riders followed either a 100, 46 or 19-mile course which began in the Olympic Park, headed into Surrey, and finished on The Mall in front of Buckingham Palace.
Sports stars and celebrities including athletes Sally Gunnell MBE and Kelly Holmes and Rugby World Cup winning-captain Martin Johnson joined the festivities.
Among the 150 elite riders taking part in the professional men's race was Manxman sprinter Mark Cavendish.
In other events on Saturday, 50 elite riders raced around St James's Park for a Handcycle Grand Prix.
The Brompton World Championship final was held on the same course with competitors unfolding their bikes and dashing round eight laps of the track.
Overall, some 100,000 people were expected to take part in the two-day festival, which has been held annually since 2013.