Accused PC Joshua Savage says 'officers carry blades'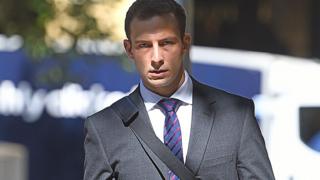 A police officer accused of smashing and sawing through a car windscreen claimed "the majority" of response officers carry their own bladed tools on duty, a court has heard.
PC Joshua Savage allegedly attacked Leon Fontana's Ford Fiesta with a baton before cutting the smashed glass with a lock knife on 16 September 2016.
The officer denies possessing his own Swiss army knife unlawfully.
He told the Old Bailey that blades were needed for emergencies.
Mr Savage claimed his job required a "cutting implement" for acts such as slicing seat belts off trapped passengers in emergency situations.
On Tuesday, the court heard the Met Police officer told an Independent Police Complaints Commission interviewer: "You supplement your own issue kit with stuff that's necessary.
"The majority of officers on response teams will carry them along with torches."
Mr Savage was asked: "So you're saying that the majority of officers on response have got that kind of multi-tool then?"
He replied: "Yes or similar."
The officer added that he had "good reason" to have the tool.
The incident on Vicar's Road in Camden, north-west London, escalated after police mistakenly thought the driver was a violent drug dealer who may have a weapon, the court heard.
Prosecutor Jonathan Polnay previously told the jury: "You might think it not unfair to say that he comes across in that clip as a bully in uniform."
Mr Savage, of Hermon Hill, Wanstead, north-east London, denies charges of possessing a bladed article, common assault and destroying property.
He has been placed on restricted duties and is on unconditional bail.
The trial continues.