London temporary housing costs up by half in four years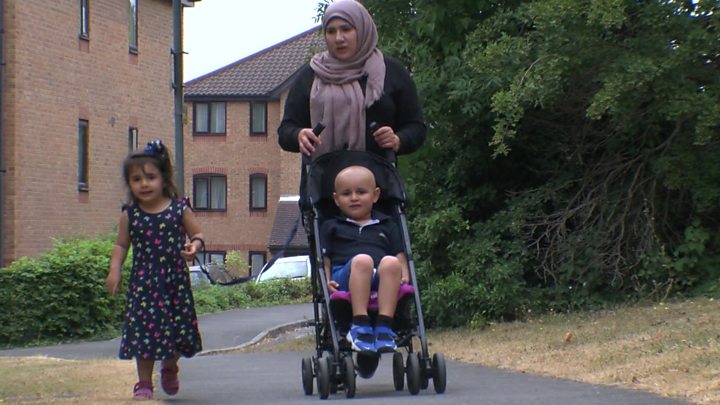 Temporary housing costs in London have risen by half in the past four years, figures show.
Costs rose from £460m to £690m over the period, freedom of information figures from 31 councils show.
One single mum whose son has leukaemia spent the past six years in temporary housing in Essex and has only just been found a property, after the council was contacted by the BBC for comment.
The government said boroughs would be getting money to tackle homelessness.
Councils have had to look for cheaper accommodation to house homeless residents and often this meant they were being moved outside London.
Mariam Afshari-Nasr, a single mum-of-three who grew up in Westminster, has been housed in temporary accommodation in Purfleet, Essex, for the past six years.
"It's very far from my kids' schools, and they said you can change your kids' schools. I told them I had to be a carer for my mother, they said you can travel one hour 10 minutes' distance, that's fine," she said.
"They didn't have any sympathy or do anything to move me."
She said she had to travel three hours a day to get her children to school and back.
"It's very inconvenient, we have no friends or family in the area to support us.
"It's literally in the middle of nowhere. It's caused a lot of isolation and wasted money on train travel."
Ms Afshari-Nasr has just been told she will now be moved back to Westminster, after the BBC approached the council for comment.
This was months after her four-year-old son Adil was diagnosed with cancer, since when he has been treated for leukaemia at St Mary's Hospital in Paddington in west London.
"It's appalling how the council is treating someone that was brought up and bred in the area, with three children, especially with a child that is sick," she said.
She was initially offered a smaller property as an interim measure after Adil's diagnosis.
"They've offered me a two-bedroom house that's not suitable for my son's needs, to bring me closer to the area, but at the end of the day, I knew if I accepted that property, I would just be left there, when I'm entitled to a three-bedroom."
Ten boroughs saw their costs double in the period, while costs for Bexley and Wandsworth councils more than tripled.
Wandsworth Council said the big rise was down to the council trying to keep homeless residents in borough to allow them to keep access to services, rather than moving them elsewhere.
Four boroughs saw their costs fall in the period. Hounslow Council said proactive homelessness prevention work and policies to increase the local supply of affordable housing had allowed it to cut spending.
More families in difficulty
Greg Beales, head of campaigns at housing charity Shelter, said a failure to build enough affordable accommodation meant more families were having to approach their councils for help.
"The number of people being evicted from private rented accommodation has gone up and benefits have been frozen at the same time as rents are rising and that means more families are getting into difficulty," he said.
Karen Buck, Labour MP for Westminster North, said: "Any London politician will tell you that homeless households are being moved away from their communities in ever larger numbers, with quite devastating consequences.
"The pool of genuinely affordable housing is getting smaller as property is sold off, and the government has been cutting support for housing, making it increasingly hard for families to stay in private rents in London."
"Locating suitable properties at short notice is challenging, but we are committed to offering Mariam and her children suitable accommodation in Westminster, incorporating wheelchair access for her son," a spokesperson for Westminster Council said.
A spokesperson for the Department for Housing, Communities and Local Government said: "Councils have a duty to provide temporary accommodation and we are providing more than £1.2bn to tackle all forms of homelessness.
"To deliver more affordable properties, £1.67bn is being made available in London and we are giving these councils the power to borrow an extra £500m to build a new generation of council housing."
Graphics by Daniel Wainwright