Giant Donald Trump baby balloon plan sparks online row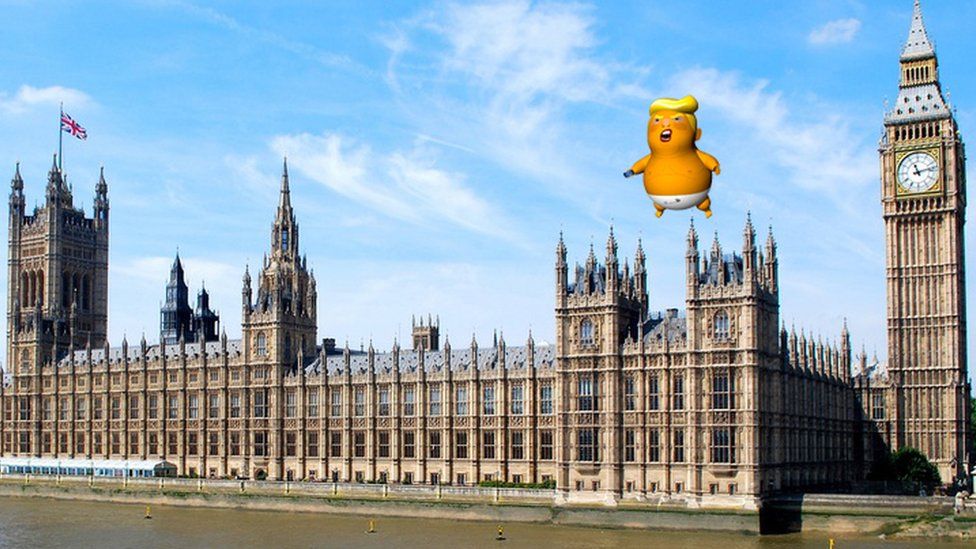 Plans to fly a giant inflatable depicting Donald Trump as a baby over London during the US president's visit have sparked an online row.
London Mayor Sadiq Khan has given permission for the helium-filled six-metre (19.7ft) high balloon to fly.
Some people on social media have welcomed the blimp protest, while others have described it as "juvenile" and "disrespectful".
Mr Trump is due to meet Theresa May at 10 Downing Street on 13 July.
Campaigners raised almost £18,000 to pay for the inflatable, which they said reflects Mr Trump's character as an "angry baby with a fragile ego and tiny hands".
Republicans Overseas spokesman Drew Liquerman said the blimp was "cringeworthy", but he doesn't believe the US president will care about it.
"Frankly it's embarrassing. It's embarrassing for the people flying it, for the British residents of London and for people in the UK," he added.
"I don't think it will bother him."
Social media has been split between those who view the blimp as a suitable protest against the president...
What a wonderful idea, we all have to get thousands of smaller trump baby balloons and see it off and then walk all around central London. Can you buy them online yet?

— Harry Earthling (@HarryEarthling) July 5, 2018
Both utterly brilliant and hilarious.

— Glassey 🏴󠁧󠁢󠁷󠁬󠁳󠁿🏳️‍🌈 (@Glassey) July 5, 2018
And others who have been critical of Mr Khan's decision to let it go ahead...
This is childish and demeaning regardless of the politics. Who is responsible for this student prank?

— Desmond Deehan (@DesmondDeehan) July 5, 2018
What is #SadiqKhan doing in allowing a giant baby #Trump balloon to fly over #London when the #USA #President arrives? It's juvenile, disrespectful and offensive. There are ways to demonstrate. This is not one of them. Grow up Mayor!

— Andrew Lindsay (@YorkNewYork) July 6, 2018
However, some have also seen a funnier side to the debate.
The criticism of Sadiq Khan for ordering a baby Trump balloon is a lot of hot air and has been blown up out of all proportion- after all there should be strings attached to the order. 🙃

— rosetta delisle #FBPE (@elisled) July 6, 2018
Under the plans the inflatable will be allowed to fly for two hours on the morning of Friday 13 July, using Parliament Square Garden as a grounding point.
A statement on behalf of Mr Khan said he "supports the right to peaceful protest and understands that this can take many different forms".
More than 10,000 people signed a petition calling for the inflatable to be given permission to fly, activists said.
Leo Murray, who is behind the crowdfunded idea, said: "[Mr Trump] really seems to hate it when people make fun of him.
"We want to make sure he knows that all of Britain is looking down on him and laughing at him."
A counter-protest which aims to fund a "Sadiq Khan baby balloon" has received more than £10,000 of support.
Before the inflatable can take off, campaigners also need permission from the National Air Traffic Service and Met Police.
Max Wakefield, who is one of the people working on the project, said the group is "confident it will obtain all necessary permits".
Mr Trump has so far made no comment.