Speedboat death accused let date drive 'to show off'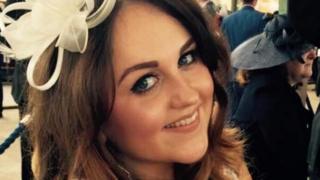 A man accused of killing his date in a crash on the Thames told police he let her drive in order "to show off", a court heard.
Jack Shepherd, 30, of Paddington, is accused of Charlotte Brown's manslaughter after they both fell from his boat on 8 December 2015.
In a police interview he said he took women out in the boat in a bid to "pull them", the Old Bailey heard.
Mr Shepherd denies manslaughter by gross negligence.
He was interviewed as a witness within hours of being pulled from the river by rescuers.
The court was shown a video of the interview, in which Mr Shepherd said he had invited 10 girlfriends back to his houseboat in Hammersmith in the year he had lived there.
Of those, the majority of them had been out in his speedboat, which is moored beside it, the jury heard.
Mr Shepherd became emotional as he told how on a return trip past the Houses of Parliament, 23-year-old Ms Brown became "insistent" that she have a go at driving.
He told police he "wanted to sleep with her basically" so let her take the wheel.
"I was just trying to show off about having a speedboat like I thought it would impress her," Mr Shepherd added.
The court heard the boat had been speeding before it hit a log and tipped over while Ms Brown, from Clacton, Essex, was at the wheel.
Mr Shepherd said she was "probably" driving at "full throttle" and "maybe steering slightly erratically", but he felt it was "exciting" rather than being afraid.
'Hazy memory'
He said: "I got to a stretch I considered to be safe because it was quite straight and long so we swapped over.
"My memory is quite hazy about the whole thing because we drank heavily.
"The last thing I remember is just hanging on to the boat. It was upside down at this point. I didn't know where Charli was."
He ended his interview by saying: "I regret profusely what happened."
The couple had been drinking wine at The Shard and allegedly took a bottle of champagne on the boat, jurors were told.
The court has heard neither Mr Shepherd nor Ms Brown were wearing life jackets.
After being rescued Mr Shepherd was handed over to police and an officer said he "seemed quite intoxicated".
The trial, which is being conducted in Mr Shepherd's absence, continues.