Jeroen Ensink inquest: Killer's sister had warned police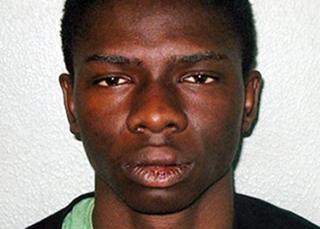 The sister of a man who killed an academic warned police of his poor mental health seven months before the fatal knife attack, an inquest heard.
Femi Nandap was given an indefinite hospital order for stabbing Dr Jeroen Ensink, 41, as he left his home in Islington, London, in December 2015.
He suffers from paranoid schizophrenia and admitted the killing in 2016.
His older sister, Wupya Nandap, told St Pancras Coroner's Court she first phoned the police in May 2015.
Her brother was charged with assaulting a police officer and possessing a knife, but these were dropped by the Crown Prosecution Service (CPS) six days before he killed Dr Ensink.
Corporate lawyer Ms Nandap said she told an officer her brother had taken illegal substances.
She added that he was watching conspiracy theories on YouTube and smoking cannabis, which both "exacerbated" his condition.
"I didn't think he should be questioned alone," she said.
Nandap was treated with anti-psychotic drugs at home in Nigeria while on bail awaiting trial for the earlier alleged offences.
Ms Nandap said she handed police a letter from a Nigerian doctor saying her brother was unfit to travel and suffering from psychosis, acute depression and hallucinations.
Police the told her Nandap had been assessed by a different doctor, who concluded he was well enough to be questioned alone, she told the court.
Officers have told the inquest they did not raise reports flagging Nandap's vulnerability with authorities.
A post-mortem examination found Dr Ensink, who worked at the London School of Hygiene and Tropical Medicine, died of shock and haemorrhage, as well as multiple wounds to the chest and back.
He was killed as he left his home to post cards announcing the birth of his daughter.
At the Old Bailey in 2016, Nandap, then of Woolwich, south-east London, admitted manslaughter on the grounds of diminished responsibility.
The inquest, expected to last three weeks, continues.