Protesters lose bid to overturn abortion clinic buffer zone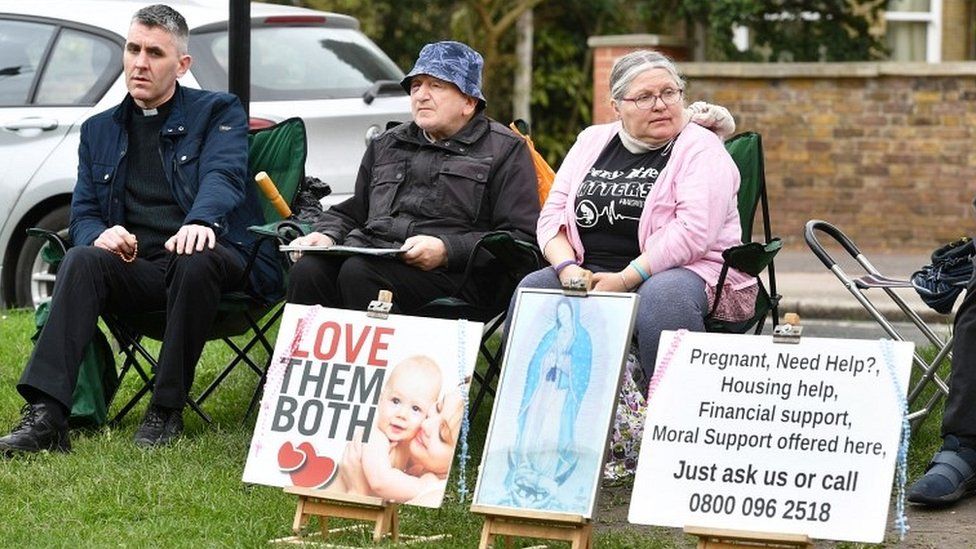 Protesters have lost their bid to remove a buffer zone around an abortion clinic in west London.
The Good Counsel Network, which holds vigils outside the clinic in Mattock Lane, Ealing, denies harassing women.
The High Court found the ban interfered with activists' human rights, but the council was "entitled" to impose it.
Mr Justice Turner said: "There was substantial evidence that a very considerable number of users of the clinic reasonably felt that their privacy was being very seriously invaded at a time and place when they were most vulnerable."
As such the council is "entitled to conclude that the effect of the activities of the protesters was likely to make such activities unreasonable and justified the restrictions imposed," he added.
Both anti-abortion and pro-choice protesters are barred from standing within 100m (330ft) of the centre.
Councillors voted unanimously to implement the safe zone after women complained of intimidation.
A designated area for vigils has been set up to the west of the clinic, outside the buffer zone.
Restrictions imposed on campaigners, including the number who are allowed to be there at any one time, will remain in place.
The buffer zone has been introduced for three years with a review to be held in October.
Clare McCullough, director of the Good Counsel Network said, she was "saddened" by today's decision.
The ban will "serve only to prevent women receiving help and information about alternatives to abortion," she said.
"The most vulnerable women - such as those without recourse to state benefits or housing help - are the ones who will lose out most."
Julian Bell, leader of Ealing Council, said he was "delighted" by the decision.
He added: "Since the safe zone was implemented in April, we have seen a dramatic reduction in anti-social behaviour, confirming to us that we were right to take this action in the interest of those people living in the locality of Mattock Lane, and for those who visit the area."
Related Internet Links
The BBC is not responsible for the content of external sites.