Archway attack: Boy, 14, stabbed multiple times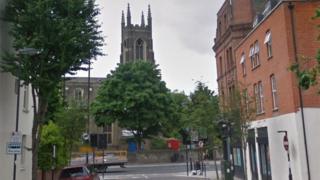 A 14-year-old boy is in a serious condition in hospital after being stabbed multiple times.
Police have launched an attempted murder investigation after the attack near Archway, north London.
The Metropolitan Police said officers were called to Fairbridge Road shortly before 19:00 BST on Sunday.
A boy, 11, arrested on suspicion of attempted murder has been "de-arrested and released from custody", the force said.
The victim was found suffering from a number of stab wounds and taken by air ambulance to an east London hospital. His condition is serious but stable.
The boy's family is with him at hospital, the Met said.
Witnesses said he was stabbed in the stomach with a large kitchen knife.
Resident Amina Taylor said she heard shouting outside her flat overlooking Fairbridge Road and went to her balcony from where she saw a fight involving two men and two teenagers.
Within a few minutes, another young boy ran down the road towards the group carrying what looked like a kitchen knife as onlookers shouted for the fight to stop, she said.
"We could all see the knife in his hand. It was that big," she said.
"You could hear the screams of 'no, stop it, don't do anything, don't be stupid' and he went for one of the adults first but then he was kind of swinging wildly and he just thrust the knife into the stomach of the teenager."
Shopkeer Abdullah Ozcelik added: "These people are just little children. It should be unbelievable. It should not happen to anyone.
"Obviously it is a horrible thing to happen because people are scared. It is a bad thing for the area and a bad thing for business."
'Devastating impact'
In a statement, the Met said: "At this early stage officers retain an open mind as to motive."
Mayor of London Sadiq Khan said: "Incidents like this have a devastating impact on families and our communities and we need to send the message that they will not be tolerated.
"Politicians, the police and all Londoners must unite in saying it is never acceptable to carry a knife - and it does not make you safer."