'Sex work and overcrowding' at London lets investigated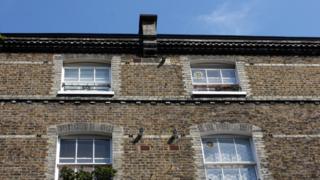 Sex work, parties and overcrowding have all been uncovered in short-term let properties, a London council has said.
Westminster City Council is looking at 1,200 properties after it issued 75 breach notices to owners using online accommodation rental sites.
It said some households let properties to short-term guests on nearly every night of the year.
Two of the bigger companies, Airbnb and HomeAway, said they had not received complaints from Westminster council.
An Airbnb spokesperson said: "There are many home-sharing platforms in Westminster.
"Airbnb is the only one that works with London to promote the rules and limit how often hosts can share their homes - others need to step up and do the same."
HomeAway said it was working "closely with the council to identify and address concerns and together with the short-term rental industry, we work on appropriate solutions for all parties involved".
Households must apply for planning permission if they want to let a property for more than 90 days a year.
Airbnb said it did not allow users to accept more bookings than the legal limit, unless their owners have planning permission.
However, the council says landlords and tenants are sub-letting to get around Airbnb's rules by offering the rooms on multiple platforms such as HomeAway.
Council leader Nickie Aiken said some people may not know the 90-night limit exists, according to the Local Democracy Reporting Service.
But she warned the council was taking a tough approach, adding the proliferation of short-term visitors were upsetting residents in the borough.
She said: "We have no problem with people earning a little extra money by letting their home considerately within the limits.
"But those who are breaching the 90-night limit and letting 365 days a year are a blight on the lives of our residents."
It is estimated that in Westminster there are 4,703 Airbnb listings, comprising 3,284 entire homes, 1,378 private rooms, and 41-shared rooms.
Westminster Council has invested £200,000 in a Housing Standards Taskforce, which it set up last year.
The project will collect evidence on properties suspected of breaching the 90-night limit, and target landlords renting out sub-standard properties.
This story has been amended following a comment provided to the BBC by HomeAway.