Stamford Hill school with sex ed ban 'inadequate'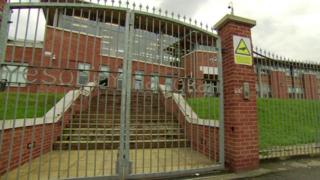 A Jewish girls school that bans sex education and redacts book chapters has been rated inadequate by Ofsted.
The latest report for Yesodey Hatorah Senior Girls School said leaders did not prepare pupils well for life in modern British society.
Girls at the Stamford Hill school were not allowed to study animal or human reproduction and studies on global warming were restricted, Ofsted said.
The school said the report disrespected the Orthodox Jewish community.
The inspection in March said the quality of teaching was not good enough and pupils' knowledge and understanding of other communities was limited.
"The majority of pictures in books on major artists such as Picasso had been blanked out", the report said.
"Photographs portraying men and women on the same page, for instance in a crowd, had been redacted.
"Whole chapters in some texts had been stuck together. For instance, in a text on Elizabethan England, leaders had redacted sections relating to the Queen's supremacy and the Puritan challenge.
"Staff had systematically gone through every book to blank out any bare skin on ankles, wrists or necks."
You may also be interested in:
The report also found that pupils were not given opportunities to socialise with boys or with students from different communities, religions and socio-economic backgrounds.
"For example, pupils have no opportunity to compete in inter-school sport, participate in events or visit universities", inspectors said.
Safeguarding was judged as ineffective as the girls, aged between 11 and 16, were not given information about how to stay safe online and helpline numbers were redacted from books.
However, pupils' overall achievement, happiness and safety at school was praised by Ofsted.
'Comply or fail'
Theo Bibelman, chairman of governors, said: "Ofsted has downplayed our successes and academic achievements whilst showing a clear disrespect for the Orthodox Jewish community.
"We were appalled at the way the Ofsted inspectors treated our staff and students and we have made that clear to the relevant government authorities.
"This inspection was never about us; it is about Ofsted using their unfettered powers to try to force faith schools to comply with their agenda or fail."