London Euston pub fire: Crews tackle blaze near station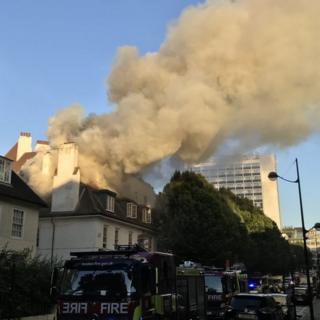 A large fire has broken out at a pub near three major railway stations in central London.
The London Fire Brigade said it was called to a blaze in Chalton Street, a few hundred metres from Euston, King's Cross and St Pancras, at 20:06 BST.
Witnesses reported seeing flames and plumes of smoke coming from the pub called the Somers Town Coffee House.
There were at least 72 firefighters tackling the blaze at one stage, the brigade said.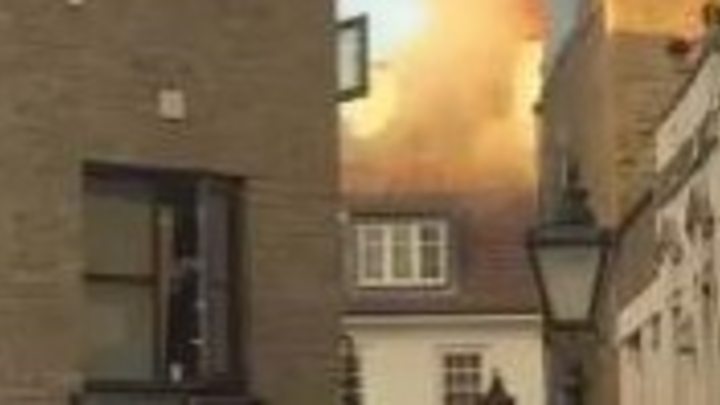 Half of the roof and part of the first floor was alight, it added. The fire was under control by 21:28.
The pub is less than five minutes' walk from Euston station but Network Rail staff said the fire was not affecting any of the three nearby stations.
'Scary situation'
Corin Faife said he had been in the pub watching the World Cup game between Serbia and Switzerland with his brother when he noticed a group of people outside and saw some smoke.
"Suddenly the fire alarm went off and a staff member told us to get out," the 32-year-old said.
"The bar staff were running around making sure everybody got out.
"It was a pretty scary situation. We grabbed all of our things and ran out."
Mr Faife, a journalist, said he left the area because there was "lots of smoke".
Tim Ahmeti, who lives nearby, was also watching the football when he realised the pub was alight.
"I was sitting watching the match and I smelt smoke as soon as I opened my front door," he said.
"My whole front street filled with smoke and everyone was standing outside just watching the blaze."
"The staff managed to get everyone out of the pub," he added.
The London Ambulance Service said they were called to the scene by the Metropolitan Police at 20:11.
A spokeswoman added: "Our first responders arrived to the scene within 10 minutes. We remain at the scene."
The Met Police said it was not yet known if anyone had been injured.
The pub, which describes itself as "an old British boozer with a twist", spreads across at least two floors and includes a speakeasy cocktail bar.