Ben Kinsella stabbing: London 'still unsafe', says sister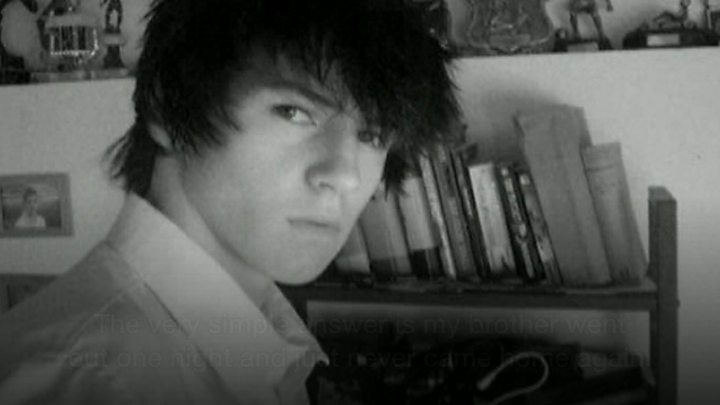 Ben Kinsella was 16 when he was murdered as he celebrated finishing the last of his GCSEs. His death triggered a series of protests and led to stricter sentences for those convicted of knife crime.
Ten years on, with a surge of violent deaths in the capital, campaigners fear the fight against knife crime is being lost.
On the evening of 28 June 2008, Ben was out with friends marking the end of exams at Shillibeers in Islington, north London.
An argument had broken out in the bar between a youth called Alfie and a man called Osman Ozdemir.
One of Ben's killers, Jade Braithwaite, was heard saying: "Tell your boy if he wants trouble, I've got my tool on me and it will open you up."
When Ben and his friends left the bar, shortly before 02:00 BST, they were chased by Braithwaite and two other men.
The three caught up with Ben - who was blameless in the row - and kicked him to the ground before stabbing him repeatedly.
The attack only lasted seconds but left Ben with 11 stab wounds, including one to his heart and two to his lungs.
Braithwaite, Michael Alleyne and Juress Kika, all from Islington, were jailed for life, with a minimum sentence of 19 years, after being found guilty of Ben's murder.
Days after the teenager's death, hundreds of protesters - led by his friends and family - marched through Islington to the spot where Ben was killed, demanding an end to violence.
His sister, the former EastEnders actress Brooke Kinsella, channelled her grief to campaign tirelessly against knife crime through the Ben Kinsella Trust.
Following a passionate campaign, in 2010 the minimum jail term for knife murders was raised from 15 to 25 years in some cases - five years below the 30-year term for gun murders.
But despite managing to help secure tougher sentences, Brooke feels the levels of knife crime have worsened since her brother's murder.
"I've done a lot of work and campaigning, and I was hoping to say 10 years on from Ben's death that things have changed and we're in a better place and that our streets are safe, and sadly I can't say that.
"Unfortunately, we're still hearing about it every day.
"It's heartbreaking."
Sentences for various violent crimes have been getting tougher over the years.
New guidelines, which came into effect at the start of June, mean any adult convicted of possessing a knife or acid for use as an offensive weapon is likely to face a longer prison term.
The recommendations of the Sentencing Council are that anyone over the age of 18 who is caught with a "bladed article" in a public place should be jailed for at least six months.
For juveniles, the suggested tariff is four months.
Patrick Green, of the Ben Kinsella Trust, said although appropriate sentencing was important, it would not solve the problem.
He described the current levels of violence involving knives as "depressing", adding that it was "hard to have any positives about what is going on at the moment".
"The sad thing is, it's not a flick of a switch, it isn't going to change overnight," he said.
"Measures will take time to bear fruit and there needs to be significant investment from the public purse.
"I also think prevention plays such a big role. No young person is born with a knife in their hand - it is learned behaviour.
"If we do far more at the beginning to either help them understand better behaviours, or unlearn those [destructive] behaviours, then that will make a significant difference."
So far in 2018, at least 49 people have been fatally stabbed in London, and during the first four months of this year there were 1,296 stabbings in the capital, according to Met Police data.
Last year, 80 people were stabbed to death - teenagers accounted for a quarter of that figure.
To help combat knife crime, the Ben Kinsella Trust has launched an interactive workshop that aims to educate young people by guiding them through five crime-themed rooms.
"The final room is a prison cell, which features an actor who can be a bit unnerving," Mr Green said.
"The children usually want to get out of the room quite quickly. But, what we teach is that you could be in a room like that for four or more years - and you don't get to pick your cellmate."
On Saturday the trust is holding a 10km walk along Regent's Canal to celebrate Ben's life and legacy and to raise funds for the charity.
A public memorial service will then be held in Islington.
Friday 29 June, the 10th anniversary of the teenager's death, is being kept free of public events to allow his family to remember him.
"Life without Ben has been life-changing," his sister said.
"People say that time is a healer, but I don't think it is in these scenarios. We will all just continue to live his life for him.
"We will never stop campaigning and trying to educate people about the dangers of knife crime.
"We hope the walk will mirror our earlier peace marches against knife crime.
"We want to keep Ben's memory alive and show as a society that there's still a problem in our city."