Finsbury Park attack: Minute's silence held to mark anniversary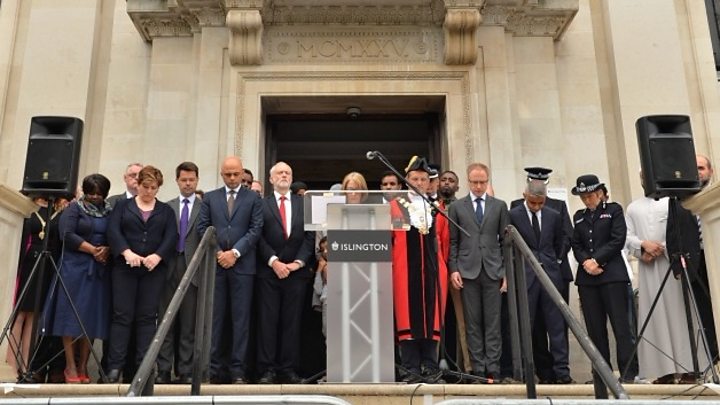 A minute's silence has been held to mark the first anniversary of the Finsbury Park terrorist attack.
One man - Makram Ali - died, and nine others were injured when a van was driven into a crowd of people near a north London mosque on 19 June 2017.
The prime minister said it was "an attack on all of us" and the community's bravery "sent a message that terrorism will never succeed".
The silence was held outside Islington Town Hall at 09:30 BST.
On Monday evening, the phrase #LondonUnited was projected on to the Muslim Welfare House and is remaining to mark a year since the attack.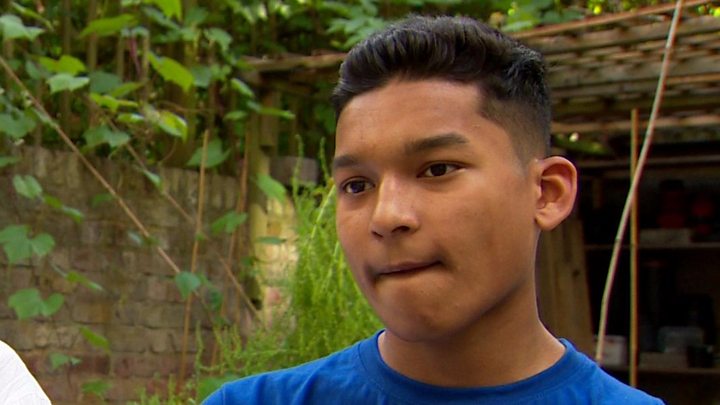 "Last year's cowardly attack which targeted innocent worshippers leaving Finsbury Park Mosque was an attack on all of us," Theresa May said.
"As with all acts of terrorism, the intention was to divide us. But we will not let this happen.
"And as we remember the victims of this attack, and Makram Ali who tragically lost his life, we should take strength that it is London's diversity and multitude of communities that makes it one of the world's great cities."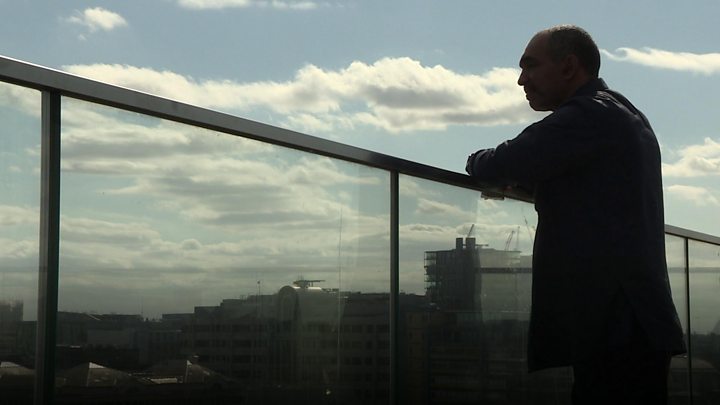 Darren Osborne, 48, was jailed for 43 years for murdering 51-year-old Mr Ali after deliberately ploughing into the crowd on Seven Sisters Road during Ramadan.
In a speech following the silence, Labour leader Jeremy Corbyn praised the response of the community following the attack saying "those who seek to divide us by racism... cannot achieve anything".
"We will be united forever, they will never divide us," he said.
Muslim leaders, Mayor of London Sadiq Khan and Communities Secretary James Brokenshire gave speeches while Home Secretary Sajid Javid also attended the event in Islington.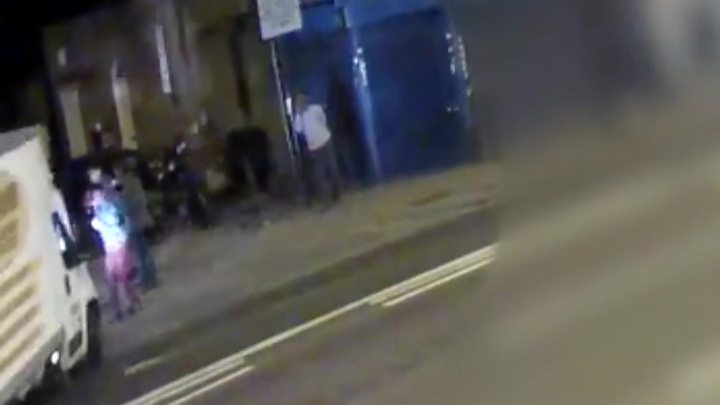 Mr Ali's daughter, Ruzina Akhtar, said: "Our father, like the victims of most terrorism, was entirely innocent which makes his death in this violent way all the more hurtful.
"He was such a peaceful and simple man, he had no bad thoughts for anyone."
Councillor Richard Watts, leader of Islington Council, said: "One year ago, a terrorist attack took the life of Makram Ali, injured many others, and changed the lives of all those affected.
"This was a hate-filled, targeted attack, designed to incite fear, but instead of driving us apart it has brought us closer together.
"I have been deeply moved to see our community stand stronger than ever to reject that message of hate and fear."
On Saturday, the Islington Faiths Forum will host a "Great Get Together" in the courtyard of Muslim Welfare House with the aim of "bringing the community together in peace and mutual understanding".
"The way the local community in Finsbury Park... came together and remains so strong together is inspirational", Met Police Commissioner Cressida Dick said.
"Our strength is our unity."