Hampstead Heath hermit's land sells for £154k at auction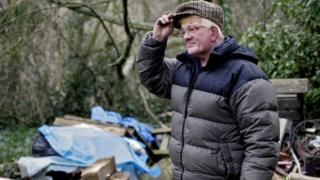 A plot of land belonging to a hermit whose life inspired a Hollywood film has sold for £154,000 at auction.
Harry Hallowes was handed title deeds to the secluded woodland spot in Hampstead Heath in 2007 after developers threatened to evict him.
After his death in 2016 the land was bequeathed to homeless charities Shelter and Centrepoint - who put it up for auction with Savills.
Last year's movie "Hampstead" was based on Mr Hallowes' life story.
The identity of the buyer has not yet been revealed.
The sale topped an estimate of about £100,000 and Shelter's chief executive Polly Neate said the proceeds will give the two charities "the opportunity to help thousands of very vulnerable people in London".
"We will be able to support more people and families facing homelessness," she added.
Mr Hallowes moved to England from County Sligo in Ireland in the 1950s.
He ended up on benefits and eventually started sleeping rough on Hampstead Heath, ending up in a shack near nursing home Athlone House in the 1980s.
In 2005 property developers Dwyer international bought the nursing home and grounds, in which Mr Hallowes' 12ft by 8ft (3.65m by 2.4m) shack sat.
However, Mr Hallowes gained squatters' rights in 2007 after proving he had been the sole occupier of the land for more than 12 years.
He died in 2016 and bequeathed the plot to the two charities.
The Hollywood movie released last year featured Brendan Gleeson and Diane Keaton.
Auctioneers Savills described the site as "a unique, irregular-shaped site of approximately 7,000 sq ft on Hampstead Heath, made famous through the film Hampstead".
The half-acre plot has strict restrictions over what it can be used for.
Under a 100-year-old agreement no building of any kind - temporary or permanent - can be constructed on the gardens.