Music mogul Jonathan King 'used fame' to lure teenage boys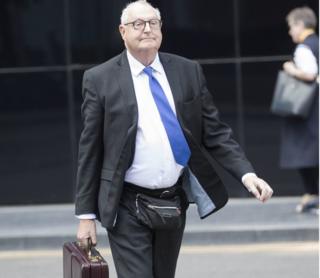 Former DJ and music producer Jonathan King used his fame to sexually assault teenage boys, a court has heard.
The 73-year-old, of Bayswater, west London, showered the boys with gifts or promised sex with girls their own age, prosecutor Rosina Cottage QC said.
Mr King is also said to have lured youngsters into his car before driving them home and giving them alcohol.
He is standing trial at Southwark Crown Court where he denies 24 serious sexual assault offences between 1970 and 1988.
He is alleged to have carried out attacks on 11 boys aged between 14 and 16.
Prosecutor Rosina Cottage QC told the jury of five men and seven women: "When they were in his power and in no position to repel his advances he would assault them.
"It appears that it was a game of manipulation and power.
"He would play the same routine again and again, honed for success."
'Hollow' denials
The jury was told the gifts included records and concert tickets and the boys were also shown pornography.
The court was also told the defendant, who is appearing under his real name Kenneth George King, denies he would ever have sex with anyone under age or force himself on someone without consent.
Describing the denials as "hollow", Ms Cottage revealed that Mr King was convicted in 2001 of sexual offences against five teenage boys in the 1980s.
She also rejected his claims "not to know or remember most of the boys" related to the current charges, when there were still photographs, letters or addresses kept in his home "like trophies" up to 30 years later.
Jurors were warned they would be shown images of a blow-up doll and pictures of naked girls during the trial.
"The reason that you have them at all is because the individual boys, at the time, said they were shown photos... of naked girls to try to encourage them to believe they were going to have sex with those girls," Ms Cottage explained.
'Shocked and frightened'
Outlining an account of one of his alleged victims, the prosecutor told the court that the 15-year-old was "star struck" when Mr King pulled up next to him near London's Tottenham Court Road in his white Daimler car in April 1970.
The teenager was taken to dinner at a Chinese restaurant and given alcohol, and was later left "shocked and frightened" after being sexually assaulted at the music mogul's home.
Ms Cottage said the complainant came forward after reading an article in the Independent newspaper in 2012, entitled "Jonathan King: the only apology I have is to say that I was good at seduction".
Mr King denies meeting the boy or having any sexual encounter with him, the court heard.
Another alleged victim was 14 or 15 years old when he was allegedly shown "pop fan goodies" in the boot of Mr King's car.
The boy was allegedly taken to a Birmingham radio station while he was interviewed, plied with champagne and then taken to the Playboy Club in London.
Ms Cottage said the complainant was promised sex with girls, shown pornography and supplied with condoms by King, who also took the boy and his sister to Pebble Mill, a BBC studio in Birmingham.
Jurors were told he last saw Mr King on his 21st birthday, when the defendant told him "he was too old and ugly for him now".
The trial continues.