Croydon moped robbers target family in stationary car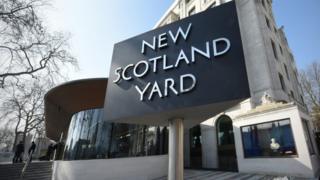 A family of four were robbed by two masked men on a moped as they sat in a stationary car in Croydon, south London.
One of the suspects threatened the family with a large knife on Keats Way, Coulsdon, at about 17:45 BST on Friday.
Police say the pair made off with a "small quantity of jewellery".
A 30-year-old woman suffered a cut to the hand during the robbery, as one of the suspects attempted to steal her bracelet.
It is believed that the other man also had a knife.
Detectives described the suspects as two white males, aged in their late teens or early 20s.
Both were of slim build and wore dark coloured tracksuits, black crash helmets and facemasks.
The number of offences carried out by criminals using mopeds in London has increased from 827 offences in 2012 to more than 23,000 last year.
Data obtained by the BBC showed during that period, more than 40% of such offences happened in just two boroughs - Camden and Islington.
Use our tool to see how badly your neighbourhood is affected.
Moped Crimes in London
Oxford Street, West end
4th worst out of 654 wards

1,393

moped crimes in the last five years

756

of them were in 2017

113

moped crimes committed on

Market Place


(West End's most dangerous road since 2012)
Types of moped crimes for West End
Camden Town with Primrose Hill, Camden
9th worst out of 654 wards

752

moped crimes in the last five years

622

of them were in 2017

103

moped crimes committed on

Regent's Park Road


(Camden Town with Primrose Hill's most dangerous road since 2012)
Types of moped crimes for Camden
South Kensington Museums, Brompton & Hans Town
58th worst out of 654 wards

161

moped crimes in the last five years

105

of them were in 2017

10

moped crimes were each committed on

Egerton Garden Mews

,

Lucan Place

and

Sloane Street


(Brompton & Hans Town's most dangerous roads since 2012)
Types of moped crimes for Brompton & Hans Town
Buckingham Palace, St James's
20th worst out of 654 wards

386

moped crimes in the last five years

166

of them were in 2017

16

moped crimes were committed on

Kean Street


(St James's's most dangerous road since 2012)
Types of moped crimes for St James's
Southbank, Cathedrals
22nd worst out of 654 wards

331

moped crimes in the last five years

192

of them were in 2017

26

moped crimes were committed on

Southwark Street


(Cathedrals's most dangerous road since 2012)
Types of moped crimes for Cathedrals