Oxford Street pedestrianisation plans ditched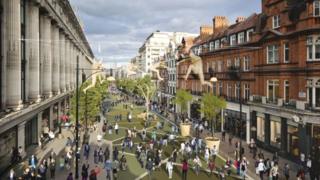 Plans to pedestrianise Oxford Street in central London have been "taken off the table for good", Westminster City Council has confirmed.
The council's leader said "the majority of its residents" were against the proposals to make it traffic-free.
Describing the decision as a "betrayal", the Mayor of London Sadiq Khan said he "won't walk away from Oxford Street".
He said the move "poses a real threat to the future" of the road.
The pedestrianisation was backed in a public consultation and was seen as one of Mr Khan's flagship policies.
Under the plans, all east-west traffic would have been stopped, although some north-south routes would have been maintained.
Mr Khan had hopes it would coincide with the arrival of the Elizabeth Line later this year.
However, Westminster City Council leader Nickie Aiken said a "rethink of the whole strategy" was required.
In a statement she said: "It was clear through two public consultations and recent council elections that local people do not support the pedestrianisation proposals."
About a million people were directly contacted for the public consultation between 6 November 2017 and 3 January 2018, asking if they supported the proposals.
Transport for London and Westminster City Council received 14,377 responses, with just more than 9,000 - about 64% - either supporting the project outright or backing the plans with "some concerns about certain elements".
An earlier initial consultation in spring 2017, which saw 62% of the 12,000 responses supporting the principles behind the transformation of Oxford Street.
'Betrayal of millions'
The council said "it was clear" following the two consultations combined with the recent local elections in May, that local people "did not support the proposals".
Mr Khan described Westminster City Council's decision as a "betrayal of millions of Londoners".
He added that the plans to make Oxford Street traffic-free would have made it "a safer, healthier and better environment".
"This now poses a real threat to the future of Oxford Street, which could not be worse timed, coming on the same day House of Fraser announced they will be closing its Oxford Street store."
Transport for London has been approached for a comment.
The New West End Company, which represents 600 businesses in the area, called the announcement "disappointing and frustrating".
"Our businesses are more determined than ever to see urgent measures in place to address safety and air quality concerns," CEO Jace Tyrrell said.
---
Analysis
By Tom Edwards, BBC London Transport Correspondent
In City Hall circles they spoke about the pedestrianisation of Oxford Street as Sadiq Khan's legacy for his first term. The problem is, it's Westminster City Council's road.
Not long ago Westminster councillors stood with Sadiq Khan, talking about the virtues of the grand plan. They were actually working together.
But that all evaporated during the local elections. The Tories soon changed tack as they learnt residents, smaller businesses and cyclists were angered by the plans and felt ignored.
Oxford Street is still dangerous with high collision rates and terrible levels of pollution - mainly from bus and taxi emissions.
It's difficult to see how that's going to change now the consensus has collapsed, but City Hall is fuming the project has been scrapped.