Attack victim Paul Kohler challenges London station closures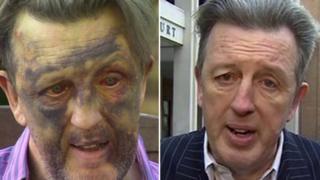 A victim of a violent attack has urged the High Court to overturn a decision to close more than half of London's police stations.
Paul Kohler, 59, believes he only survived an assault because officers were able to reach his Wimbledon home within eight minutes.
The Mayor of London announced the decision to close at least 37 police stations in November 2017.
A spokeswoman said government cuts had made closures necessary.
Mr Kohler, who was left with severe facial injuries after the 2014 attack, launched a judicial review into the decision in January.
The university lecturer suffered a fractured eye socket, broken nose and severe internal bleeding in the attack.
Four men later received jail terms of between 13 and 19 years.
David Wolfe QC, representing Mr Kohler, argued the "original public consultation and consequent decision were legally flawed" and the closures were "unlawful".
The QC said the decision "needs to be quashed and the process re-run", with a public consultation that "allows Londoners to properly participate".
Before the proceedings began, a spokeswoman for the Mayor of London, Sadiq Khan, said: "The mayor robustly defends the challenge brought against the planned closure of police station counters and consultation process behind it."
She added: "These closures are the result of cuts to the police budget since 2010, which have seen officer numbers drop below 30,000 for the first time in 15 years.
"Buildings had to be closed in order to save an additional £8m a year and protect the front line of policing as much as possible."
The case continues.