'Deluded' Christine Lampard stalker faces jail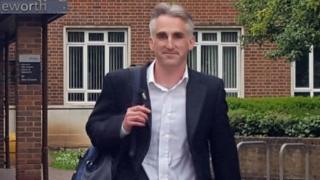 A man who stalked TV presenter Christine Lampard faces jail after sending her "very nasty" tweets, a judge has ruled.
Christof King, 39, of Mowbray Road, Brent, admitted to stalking last week, but disputed sending the tweets.
After a Newton hearing at Isleworth Crown Court, Judge Robin Johnson ruled that King did indeed send tweets to Mrs Lampard.
King will be sentenced at the same court on 27 July.
The Newton hearing was held only in front of Judge Johnson to establish whether or not King sent the tweets to Mrs Lampard - an allegation he denied despite his guilty plea to stalking.
Judge Johnson said: "There is clear evidence that King has delusional tendencies."
He added: "In my judgment I accept that Mrs Lampard is truthful and accurate.
"I accept that she received tweets from Christ-of-King (King's Twitter account) in 2015 and that these included some very nasty remarks.
"It follows that I reject the defendant's account.
"I am satisfied that having been blocked and having felt frustrated by the repeated non engagement with him by letter or tweet that he found the only way of engagement was by repeated visits to the house.
Referring to King, Judge Johnson said: "He is clearly someone who swings in mood during the course of a letter, for instance."
"I don't rule out a sentence of imprisonment."
'Sinister and dark'
King, who changed his name by deed poll from Jon Dunningham in April 2016, said he did not set up the account that Lampard said the tweets came from and insisted that he did not send the tweets.
The court heard King sent letters and turned up at the house Mrs Lampard shares with footballer husband Frank Lampard on more than one occasion.
Speaking at the hearing on Tuesday from behind a curtain, pregnant Mrs Lampard said the "disturbing" tweets caused her so much concern she showed them to her husband.
"Several tweets became quite sinister and dark," she added.
She said these tweets made her pay attention, adding that another reason she noticed his tweets was because "there was so many of them".
One tweet he is alleged to have sent said: "I can hear the scratch of nails as I sharpen them ahead of your crucifixion."
The court heard that another tweet said: "I am planning the words that will go on your gravestone."