Baby boy and woman stabbed in Hounslow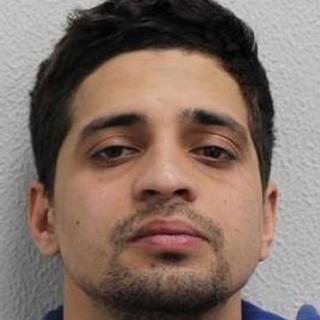 An 11-month-old boy has been left in a critical condition following a stabbing at a home in west London.
A 32-year-old woman was also found with less serious knife wounds at the property on Swinfield Close, Hounslow, on Monday evening.
The pair were taken to hospital by air ambulance after police and paramedics were called at about 19:00 BST.
Police say they are trying to trace Rehan Khan, 25, who is sought on suspicion of attempted murder.
According to police Mr Khan knows the injured woman and baby boy.
Detectives say Mr Khan is known to frequent areas in Hounslow and Isleworth, and has links to Newham, Slough, Hammersmith and Fulham.
A crime scene has remained in place throughout the morning and police have warned the public not to approach Mr Khan.
Myrtle Cantwell, 62, who has lived on the estate for 38 years, said: "The air ambulance was hovering and there was lots of police.
"The police came by and banged on the door where it happened. The lady next door came out and ushered them in.
"I could see the police vans and the sirens but I stayed indoors."
Another neighbour, Leanne Gidlow, 33, described the family as "quiet".
She added: "They just kept themselves to themselves. I don't think they had been living there too long.
"I just think how could anyone do this? When this sort of stuff happens on your doorstep - I just turned cold.
"Then you hear there is a baby involved and it seems to make it all worse somehow."