Rashan Charles police restraint death: Inquest begins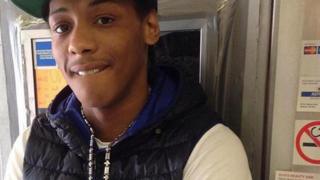 An inquest has begun into the death of a man from north London who died after being restrained by a police officer.
Rashan Charles, 20, died in hospital after police chased him into a shop in Dalston, east London, on 22 July 2017.
The father-of-one's death sparked violence and led to threats being made to police.
One family member broke down in tears and left the inquest as St Pancras Coroner's Court was shown CCTV footage of Mr Charles being restrained.
In the video from the convenience shop in Kingsland Road Mr Charles was seen putting a package into his mouth.
Moments later an officer, referred to as BX47, rushed into the store and grabbed him from behind.
The pair fell to the floor after the officer tried to restrain Mr Charles against a freezer.
Several minutes later, a member of the public known only as Witness 1 helped to keep Mr Charles still by putting his knee on his legs.
A second officer, referred to as BX48, then arrived at the scene.
This officer gave Mr Charles first aid, moving him on to his back before the first officer began chest compressions.
The coroner, Mary Hassell, apologised for showing the "distressing but necessary" video.
Paramedics arrived minutes later and removed a package from Mr Charles' mouth.
An initial investigation conducted by the Independent Office for Police Conduct (IOPC) found the package contained a mixture of caffeine and paracetamol.
In the hearing on Monday the jury, coroner and witnesses were all hidden from the press and the public behind a curtain which extended across the courtroom.
Ms Hassell said she decided to allow the curtain "after some thought" after officers involved in the death were granted anonymity.
However, she rejected claims there was a "direct threat to officers' lives".
The inquest is due to last 12 days.