London violence: Man stabbed near Ilford Police Station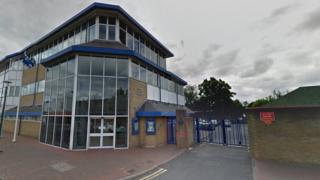 A man was stabbed outside a police station amid a series of gun and knife attacks on the same night.
The victim, thought to be in his 30s, was found near Ilford Police Station in east London shortly after 04:00 BST.
Scotland Yard said the building would remain closed during the initial investigation.
In separate attacks, two men were hurt in a double shooting in Peckham, while in Greenwich a man in his 40s was stabbed multiple times.
No-one has so far been arrested in connection with any of the attacks.
Stop and search
Two men, aged 22 and 25, were taken to hospital after they were found wounded in Wodehouse Avenue, Peckham, at 20:00 BST on Saturday.
Police believe the men had been sitting inside a vehicle when shots were fired through the windows. Neither is in a life-threatening condition.
Images taken at the scene showed a blue Ford car with a broken window surrounded by armed police.
Scotland Yard said the Trident and Area Crime Command had been informed and inquiries continue.
Officers were granted a section 60 order giving them additional stop-and-search powers in the area until 07:00 on Sunday.
In Greenwich, the victim was found in Claremont Street at about 18:45 on Saturday.
He was taken to hospital with "non-life threatening and non life-changing" injuries, police said.
Last month, members of the London Assembly launched an urgent investigation into the recent surge in violent crime in the capital.
The Met Police has launched at least 72 murder investigations this year.
Of those, 44 involved knives while there have been 10 where guns were used.