Family of Amaan Shakoor appeal for help to find killer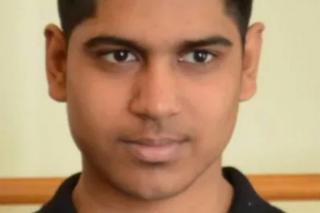 The family of a 16-year-old teenager who was shot dead in London has appealed for help to find his killers.
Amaan Shakoor was shot in the head in Markhouse Road, Walthamstow, on 2 April and died the next day in hospital.
His family said the "devastating" and "senseless" shooting felt like being handed a life sentence and their lives had been "totally changed".
A £10,000 reward has been offered by Crimestoppers for help to find Amaan's killer.
The 16-year-old's family said Amaan had gone to meet friends when he was fatally shot at close range.
They said they still "can't imagine life without him" and pleaded for anybody with information about his killers to contact police.
"If you are protecting these people or know them, recognise the devastation this has inflicted on our family," they said.
The teenager was found in the street at about 22:00 BST alongside another 15-year-old boy who had suffered non-life threatening injuries.
Det Ch Insp Gary Holmes said the family were "desperate for justice".
"This tragic and mindless act has stolen away Amaan's life and robbed him of his future."
An 18-year-old man and a 19-year-old man who were previously arrested on suspicion of murder have both been released under investigation.
The Met Police have launched at least 72 murder investigations this year.