Charlie Gard parents reveal engagement at charity launch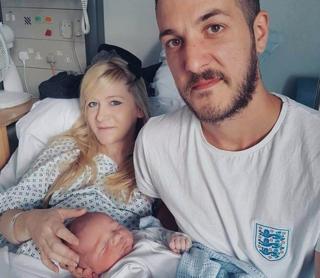 Charlie Gard's parents have revealed they are to marry as they announced the launch of a foundation set up in their son's memory.
Chris Gard said he proposed to Connie Yates after promising Charlie he "would always care for and look after his gorgeous mummy for him".
The couple said The Charlie Gard Foundation would invest in researching treatments for mitochondrial diseases.
The 11-month-old suffered from the extremely rare genetic condition.
Writing on Facebook, Mr Gard said in the hours before his son's death on 28 July last year he "laid on his bed, held his hand and had a little father/son chat with him".
"I told him many things, I told him how much he was loved... I also made a number of promises to him," he said.
He said he then asked Ms Yates "if she would do me the honour of becoming my wife and sharing mine and our beautiful son's surname. And she said YES!!!".
Mr Gard added that when the pair get married his son will "be up there watching, hopefully with a big smile on his face".
The couple's charity has been set up using the £1.3m donated by well-wishers during their lengthy legal battle with Great Ormond Street Hospital (GOSH).
More than 84,000 people donated money following an appeal to raise funds for overseas medical treatment for their son.
As well as funding research into mitochondrial diseases, the foundation has been set up to provide support for families "touched by a life-limiting condition".