London councils spend £100m on Grenfell-inspired safety work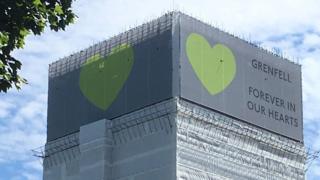 London councils have spent nearly £100m on safety measures in the year since the Grenfell disaster, figures show.
Some councils say they have had to delay refurbishing council flats to pay for the fire safety work.
Croydon Council says a lack of government funding has caused it to cut refurbishment work to pay for sprinklers installation in high rises.
Police and fire service minister Nick Hurd said primary responsibility for fire safety work lay with landlords.
Defective fire doors
The nearly £100m in spending, declared by 24 boroughs in response to BBC freedom of information requests, paid for cladding removal, operating "waking watches" on buildings that were found to be at risk of fire, safety surveys and other improvements.
However, some boroughs are still finding new safety issues a year after the disaster.
In Barnet, north London, the agency that runs social housing for the council found 1,183 fire doors installed in its flats do not provide enough resistance to fire and will need need to be replaced.
The Manse Masterdor fire doors were only installed in 2013 and 2014 and will cost £1.5m to replace.
Malcolm Sweetland, who lives in one of these flats, said it was a pity so much money would have to be spent on the doors rather than other improvements, but understood why it had to happen.
"In the long run, it's better safe than sorry, isn't it?" he said.
Camden Council has spent £33m since the disaster, while Newham has paid out £20m.
Kensington and Chelsea says it has spent £4.6m on fire safety improvement work, and has separately spent £235m in responding to the Grenfell disaster directly so far, exhausting its reserves.
In Croydon the council has taken the decision to begin retrofitting sprinklers in its high rise blocks.
Barry Craker, a resident in Beech House, New Addington, said he was happy to have sprinklers.
"It's good, you need it done for security and safety. Hopefully we won't have to use them any time soon."
However, the council says that to install the sprinklers it has had to make cuts elsewhere.
Alison Butler, cabinet member for housing, said: "We are funding this £10m in sprinkler work, because we are determined to do that, but that does mean that other things we hope to do, to keep our flats decent, will have to suffer and wait in the long term."
Enfield and Brent councils have also had applications for government funding to fit sprinklers turned down, while Newham says it has yet to receive any money from the Ministry for Housing, Communities and Local Government for its safety work.
Housing charity Shelter said several London councils have told them they have had to delay or cut refurbishment works and fuel poverty reduction programmes to pay for safety work.
As it stands, only cladding replacement work done by councils will be government funded.
Police and fire service minister Nick Hurd said: "I imagine for most tenants, if asked what their primary concern was, it would be safety and wanting to feel secure in their homes, and that's the primary responsibility of the landlord which they've got to step up to."
However, he said landlords in genuine financial difficulty should approach the government to discuss their issues.