Fraudster who claimed father died in Grenfell fire is jailed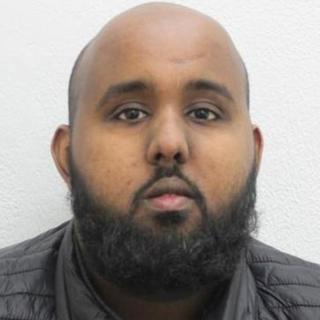 A man who claimed his father died in the Grenfell Tower fire to get his hands on emergency cash meant for survivors has been jailed.
Two days after the tragedy, Mohammad Gamoota said he had been living with his father on the 24th floor.
The 31-year-old also gave the name of a genuine victim of the fire - which killed 72 people - as his "father".
Gamoota, of Leafy Way, Croydon, was jailed at Isleworth Crown Court for 18 months for two counts of fraud.
He pleaded guilty to two charges which had aimed to net him a total of £6,784.36.
Judge Robin Johnson told him: "In the wake of a national disaster you decided to enrich yourself while you masqueraded as a true victim.
"This was not a moment of madness. You spent days in accommodation that was set aside for those who were grief-stricken, homeless and no doubt in a state of shock and bewilderment.
"That did not stop you tapping into the funds that had rightly been made available for those people."
The flat in Grenfell Tower he claimed to have lived in never existed, but Gamoota claimed that his father "Abdel Salam" died in the fire.
The name was taken from an incorrect spelling from a newspaper report on genuine fire victim Abdeslam Sebbar, who had two sons, and died in the blaze.
Gamoota had no connection with Mr Sebbar, the court heard, and his biological father actually lived abroad.
He posed as a resident of Grenfell between 14 June and 29 July and made representations to the Royal Borough of Kensington and Chelsea to "dishonestly" gain money and accommodation, according to the charges.
He received £500 emergency money and asked for another £5,000 that was due to survivors.
It was only because of a technical hitch on Gamoota's bank account that £4,500 was returned.
'Disgusting and disgraceful'
Gamoota was given a room at the Holiday Inn from 16 June and spent eight days a cost of £910 and he also enjoyed £374.35 in room service.
The court heard that Mr Sebbar's grieving son had to answer police questions for a witness statement as they investigated the fraud.
Grenfell Tower residents also condemned the fraud as "disgusting and distasteful" and stated it has "totally ripped the heart and faith of the Grenfell Tower community".
Gamoota has become the fifth convicted Grenfell fraudster, following Joyce Msokeri, 47, Anh Nhu Nguyen, 53, Elaine Douglas, 51, and Tommy Brooks, 52.
During Gamoota's sentencing, Grenfell resident Manuel Alves said in a victim impact statement: "Words cannot express how disgusted I am that the fraudsters have had the audacity to pull such a stunt."