The Met Police force owes its officers 189,000 rest days
By Thomas Mackintosh
BBC News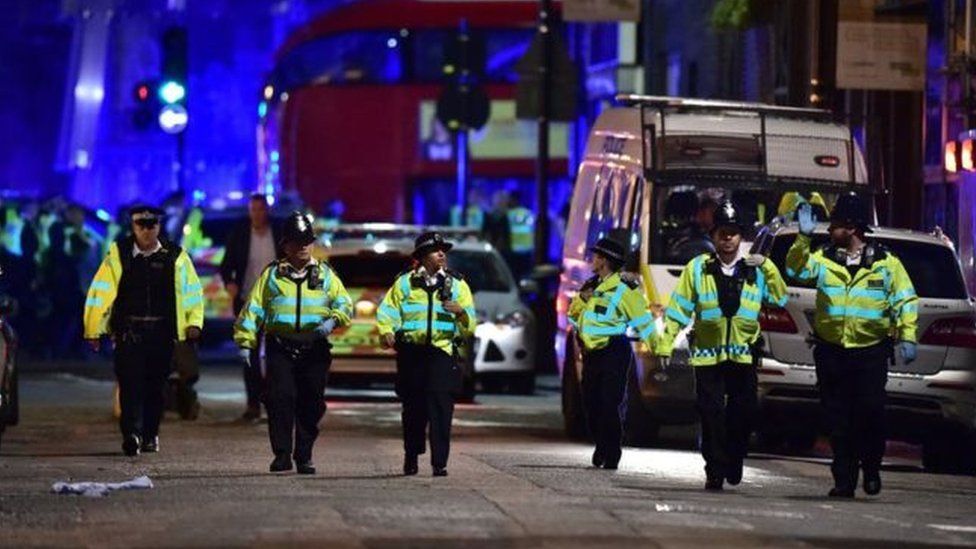 Met Police officers racked up 189,000 cancelled rest days last year amid "unprecedented" demands on the force, the BBC has found.
Two terror attacks and the Grenfell Tower fire saw extra officers brought in to aid with the force's response.
Chair of the Met Police Federation, Ken Marsh MBE, said the situation had put a "massive strain" on staff.
Deputy Met Commissioner Craig Mackey said officers had been allowed to carry rest days into 2018 and 2019.
In the wake of high-profile events, Mr Mackey said, police had to work rest days, on bank holidays and long hours "in order to get the job done".
"I have been amazed by the continued dedication and commitment that is being shown and we have made efforts to ensure that officers regain their rest days as soon as possible," he said.
However, Mr Marsh believes the cancelled days figure is higher and it is putting a "massive strain" on staff.
"Regardless of what figure it is, the amount of rest days being cancelled is absurd," he said.
"Our officers are not contracted, we serve the Queen and what the public don't understand is that these officers have no choice but to work when days off are cancelled.
"It means officers can't recharge and rest up. It is a massive strain on them."
"The best way forward is to recruit more officers," he said.
"We will make every effort to ensure that, demand aside, officers can continue to take re-rostered rest days in a timely manner," Mr Mackey said.
Related Internet Links
The BBC is not responsible for the content of external sites.