Final bid to save Uxbridge Battle of Britain RAF club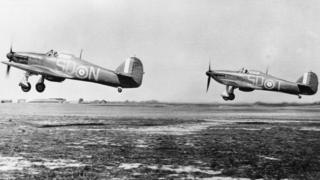 A last-ditch bid to save an RAF club next to the base where the Battle of Britain was co-ordinated has started.
The Battle of Britain Club in Uxbridge, west London, will close when its lease is handed back to the Ministry of Defence (MOD) to clear its debts.
Chairman Alan Wright said the club was a "vital part of local history" but the Royal Air Force Association (RAFA) had decided it was "no longer viable".
RAFA said closure was the "only viable option".
The closure of the club is due to coincide with the 100th anniversary year of the RAF.
It consists of two prefabricated Nissen huts which were once part of a US Air Force field hospital and was officially opened on 8 September 1951.
The facilities are used by the RAFA Uxbridge branch and the Battle of Britain Club whose membership includes numerous RAF veterans, as well as by local community groups.
Due to the club's debts it is set to close on 9 July, a day before the 78th anniversary of the beginning of the Battle of Britain.
It is understood the club had not been billed for its rent for 16 years and so had not paid.
The MOD then billed the club earlier this year for the outstanding £160,000 but is only able to demand £60,000 as it can only claim debts going back six years.
Mr Wright has set up a petition calling on RAFA, which holds the lease, to stop the closure and is searching for investors to help raise revenue.
He told the Local Democracy Reporting Service: "I appeal for the support of the members, the local community and wider for this fight in the hope we can save the club and keep this vital part of local history."
Ailsa Gough, area director south east and eastern at RAFA, said financial reports "clearly show significant long-term debts" which "cannot be covered by the club".
She added RAFA were supporting organisers "to find alternative premises for their meetings, so they can continue to support members of the RAF family in their area."