MP calls for parliamentary inquiry into Garden Bridge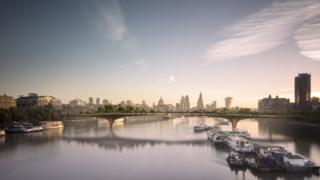 An MP has called for a parliamentary inquiry into the Garden Bridge project over concerns Transport for London (TfL) may have been misled to secure £7m of its funding.
A £200m plan to build a bridge covered with trees over the River Thames was abandoned last year.
The Garden Bridge Trust said it secured enough funding to build the bridge - a condition for TfL's contribution.
But investigations by the Architects' Journal found discrepancies.
In a letter to TfL sent on 27 January 2016, the trust's deputy chairman, Paul Morrell, argued that it had met the six conditions in the funding agreement necessary for the release of a £7m contract.
The letter stated the trust had raised a total of £145m.
Three weeks later trustees of the charity were told only £130m had been raised, according to publically available board meeting minutes.
Andrew Gwynne MP, Shadow Secretary of State for Communities and Local Government said: "Taxpayers are out of pocket by nearly £50m and there is very little transparency about how these public funds were used."
"Questions need to be asked why this project was allowed to spiral out of control."
No explanation has been given for the conflicting figures.
The trust declined to comment.
In total, an estimated £46.4m of taxpayers' money - calculated as direct grants of about £26m from the Department of Transport (DfT), around £11m in services in kind from Transport for London (TfL) and the remainder in cancellation costs - has been spent, according to the review by Dame Margaret Hodge.
In February 2017 the Charity Commission cleared the trust of any financial irregularities.
---
Garden Bridge timeline:
The idea of a "floating paradise" as a memorial to Princess Diana was suggested by Joanna Lumley as far back as 1998
The plan gathered momentum in 2012 and the following year then mayor Boris Johnson supported the scheme, pledging that Transport for London would help deliver it. It was also backed by then chancellor George Osborne
The scheme has been beset by problems over its funding and lacked support of some local residents
In September 2016, Mr Khan ordered a review to find out if value for money was being achieved
In October 2016, the National Audit Office revealed David Cameron ignored the advice of his own civil servants not to provide further taxpayer funds to the Garden Bridge Trust because of the risks of it not going ahead
In January 2017 accounts filed with Companies House show a £56m shortfall in the trust's accounts
In April, Dame Margaret Hodge concluded it would be better to ditch the project rather than risk uncertain costs
Following this report, Sadiq Khan withdrew his support
In December 2017 Boris Johnson is called before the London Assembly to give evidence on the projects failure
---