Man threatens to 'smash' ambulance in private space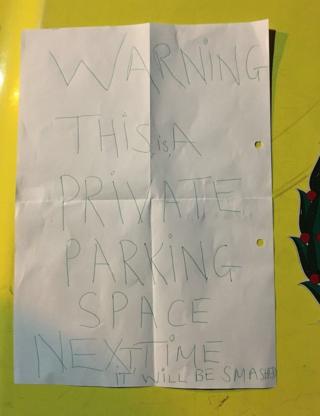 A paramedic was verbally abused and a note thrown at her for parking in a "private space" when an ambulance got a flat tyre.
The note said if the vehicle parked there again it would "be smashed".
The paramedic was part of a team helping someone who had a cardiac arrest on Westferry Road, east London, at about 22:30 BST on Tuesday.
The Met Police arrested a 38-year-old man on suspicion of a public order offence several hours later.
The full note, written in capitals, said: "Warning this is a a private parking space next time it will be smashed."
A spokesman for police in Tower Hamlets said: "A solo paramedic parked up after dealing with a cardiac arrest patient but had got a flat tyre.
"While waiting for recovery a male approached and was verbally abusive to her and threw that note at her."
People on social media said paramedics had a "tough enough" job without such "disgusting" threats.
One person wrote on Twitter: "What's wrong with people! I wouldn't care if they parked in my garden... they do an amazing job."
London Ambulance Service thanked Tower Hamlets officers for their support.
Assistant director of operations Natasha Wills added: "When responding to seriously ill and injured patients we prioritise getting to the scene quickly and safely.
"We try to cause minimal disruption when parking at the scene but unfortunately this isn't always possible.
"It is never acceptable for our crews to be verbally or physically abused or assaulted while treating patients and we will always push for the highest possible sentence."
In March, a woman from Stoke-on-Trent was fined after she left an abusive note telling an ambulance crew to "move your van".