Millwall Football Club development talks may restart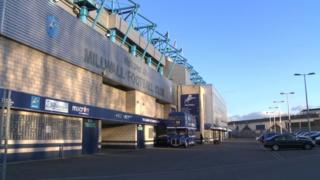 Millwall Football Club said it would welcome a "new relationship" with its local council after controversial plans to sell land around the stadium were dropped.
The club was invited to meet with property developers Renewal who helped Lewisham Council with the plans.
Renewal said it wants a "positive dialogue" with the club.
However, Millwall's chief executive Steve Kavanagh said he was unsure the change in attitude was "genuine".
On Twitter, Lewisham Mayor Damien Egan wrote: "Just signed letters inviting representatives of Millwall and Renewal to meet me in the Town Hall.
"I will not support a development that doesn't have the support of our community and I want to protect Millwall's future in Lewisham.
"Now it's time to get both sides talking."
Lewisham Council owns the freehold of the The Den which is leased to the football club.
Plans to sell the leasehold land in New Bermondsey were dropped last year after widespread outcry and negative publicity.
In response to Mr Egan's tweet, Mr Kavanagh told the Local Democracy Reporting Service the club was interested in a constructive meeting with both parties.
He added a "new relationship" could exist between the club and the council if the council terminated its conditional land sale agreement with Renewal.
"Lewisham Council can now terminate that agreement. We call upon them to do so.
"That would be an excellent demonstration of the new relationship that should exist between local council and its football club."
He said a meeting would only go ahead if the club was sure Renewal "have a genuinely open mind and a change of attitude".
Renewal's director Jordana Malik said: "All three parties are in agreement that the regeneration should happen, and that Millwall FC should have its future secured as a thriving football club.
"We look forward to establishing a positive dialogue with Millwall FC with what we hope can be a new chapter."