Vehicle ban at Bank junction 'halves casualties', report says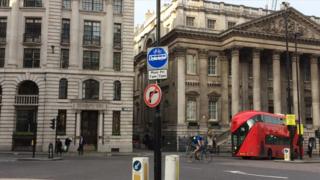 A vehicle ban at one of London's busiest junctions could be made permanent after the number of casualties in the area was halved.
Since 21 May 2017 only buses and cyclists have been allowed to use Bank junction on weekdays from 07:00 to 19:00.
The City of London Corporation said there had been a 52% reduction in casualties after the 12-month trial.
Between 2011-2015, 65 cyclists and pedestrians were injured in the area.
Casualties in the area surrounding the junction have also reduced by 33%, it was found.
Bus journey times had improved by up to five minutes, while monitoring data showed a reduction in air pollution levels in the area.
In 2015, Ying Tao, a 26-year-old female cyclist, was killed when she was hit by a lorry turning at the junction.
Following her death a protest was held at the junction, and months later more than 13,000 people signed a petition calling for lorries to be banned during rush-hour.
Chris Hayward, chairman of the City of London Corporation's planning and transportation committee, said: "Our number one priority for the experimental scheme at Bank junction is to improve safety.
"A busy junction used by 18,000 pedestrians every hour at rush hour; it has been a pleasure to see members of the public truly begin to enjoy this iconic area."
From next week the corporation will decide whether current restrictions should be made permanent.
Richard Massett, chairman of the Licensed Taxi Drivers Association, said the announcement was "good news" but called for taxis to be allowed back on the junction.
Current restrictions were causing "increased journey times" for taxis leading to a loss in business, Mr Massett said.
He said: "We find it a good scheme, if they were to allow taxis through on certain routes they could safely include taxis without having any affect on casualty figures."