Suspect linked to Deptford double murder found dead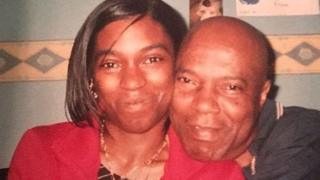 A "significant suspect" in the investigation into the double murder of a convicted sex offender and his daughter is dead, detectives have said.
Nathaniel Henry, 37, was linked by forensic evidence to the murders of Noel Brown, 69, and Marie Brown, 41, who were found in a flat on New Butt Lane, Deptford, on 4 December.
Youth mentor Mr Henry was reported missing on 12 December and was found dead in Southwark on New Year's Eve.
His death was deemed "non-suspicious".
Scotland Yard said search warrants were carried out at properties in the Southwark and Lewisham areas in the week beginning 30 April.
A neighbour of Mr Henry described him as "just a lovely guy who kept himself to himself."
The woman, who did not want to be named, said the youth mentor was "a perfect neighbour" and she would be "surprised if he could have have hurt someone".
A fundraising page set up for Mr Henry in January described the 37-year-old a "true pillar of the community who loved helping to make a difference."
A post-mortem examination, held last year, established Ms Brown and Mr Brown both died of "compression" to the neck.
Ms Brown is thought to have been strangled to death after disturbing her father's killer when she went to check on him on 2 December.
Mr Brown - who was convicted of a sex offence and jailed in 1999 - had been strangled at some time between 30 November and 4 December, detectives have said previously.
He was dismembered and his body parts removed from the flat over the course of several visits.
Det Ch Insp Simon Harding previously said the suspect was thought to have visited the flat at least four times as he dismembered Mr Brown's body.
"In my 27 years of policing, I have not seen anything quite like this," he said.