Stalking centre launched to tackle 'hidden crime'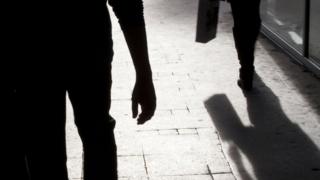 Stalkers could have to wear electronic tags which will alert victims if they go near them under a police initiative.
It comes as a "world-leading centre of excellence" to tackle stalking and to protect women from violence has been set up by the Met.
The new unit will be made up of specialist officers, mental health workers and a victims' support charity.
Detectives hope the Stalking Threat Assessment Centre (STAC) will "shine a light" on a "hidden" crime.
The centre also hopes to improve responses to stalking across the criminal justice system and the health sector through rehabilitative intervention, Scotland Yard said.
Det Insp Lee Barnard, who will be leading the unit for the Met, said: "In terms of technology, we are already engaged with a firm in relation to electronic tagging for perpetrators and proximity alerts for victims to give them a warning when the individual may be near."
STAC will be staffed by eight police officers, two nurses, a nurse manager, a psychiatrist and a psychologist, supported by a victim advocate, Crown Prosecution Service lawyer and a probation officer.
The team will also identify perpetrators who may be suitable to undertake a behaviour change programme.
There is no legal definition of stalking, though it has been described as a pattern of unwanted and persistent behaviour motivated by a fixation or obsession.
One in five women and one in ten men will experience stalking in their adult life, according to the Crime Survey for England and Wales.
Det Insp Barnard added: "Stalking is a crime of persistence and, whether the perpetrator is violent or not, it can have a devastating impact on the victim's lives.
"For some stalkers the best course of action is prison; but others will simply carry on with their behaviour when they are released, so we need different options to help them stop for good."
Over 1,000 reports of stalking were recorded by police in London in 2017 and there were 12,000 reports of harassment.
Half of stalking cases relate to domestic abuse stalkers (usually former partners who have been rejected by the victim), police said.
Officers believe STAC will lead to an increase in the number of stalking offences recorded.