Jimmy Mizen's parents appeal for more support for youths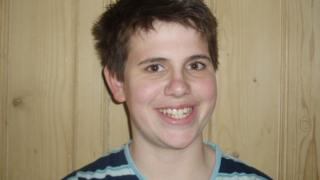 The parents of murdered teenager Jimmy Mizen have appealed for communities to support young people in order to quell the surge in violent crime.
Speaking on the 10th anniversary of their son's death, Barry and Margaret Mizen said using harsher punishments to cut violence "clearly doesn't work".
Jimmy bled to death in a bakery in Lee, south-east London, on 10 May 2008 when Jake Fahri threw an oven dish at him.
Sixty-two murder investigations have been launched by the Met this year.
At a memorial service at St George's Cathedral in Southwark, Mrs Mizen recalled Jimmy's death.
"He was really happy and three minutes later he was dead... Jimmy's life just ebbed away at that moment," she said.
Despite losing her son a day after his 16th birthday, she said it was "absolutely right" to forgive her son's killer, although she had done it "for myself".
"By forgiving him I'm able to do all the things I want to do, it allows me to look out the window and see the sun shining and the flowers blossoming."
Mrs Mizen also said it was important potential offenders learnt how violent crime "can ruin their lives as well."
"We've met many young people who have committed murder, they're not bad people, they've just made bad decisions."
Her husband Barry said it was "so important we don't give up" on helping young people.
"For us it's about a community response - what can we do to support our young people? Everything else seems to be failing."
The service was also attended by London Mayor Sadiq Khan and Met Police Commissioner Cressida Dick who called Jimmy's parents "incredibly inspiring".
"It's through and with young people that we will - we will - stop this horrific knife crime that's going on at the moment," she said.