Thousands of London homes left without gas for fifth day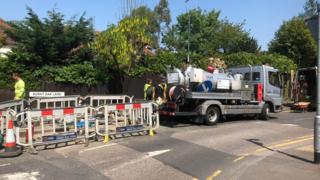 Hundreds of homes in south-east London are still without gas after a burst water pipe flooded a major gas main.
SGN said it is overseeing a "huge engineering effort" to restore gas to the Sidcup homes.
Engineers had to turn off the gas supply to nearly 2,000 homes over the bank holiday weekend.
More than 204,000 litres of water has been removed from the leak - which affected 24 miles of gas mains. Up to 330 homes have since been restored.
SGN said the water from the burst pipe had gone "beyond" its pipes and into some properties.
Although gas has been restored to some properties, dozens of streets remain affected, SGN said.
"We've still got more water to remove this morning and throughout the day, and are continuing to work as hard as we can to do this", the company said.
Thames Water engineers are on site supporting residents with damaged appliances.
The streets have been divided into four zones in order to help engineers "speed up the process" of restoring the gas.
One resident, Ian Pay, previously described the situation as a "nightmare".
A "customer centre" has opened in Sidcup Youth Centre to offer advice to residents.