Haringey Council elects Joseph Ejiofor as new Labour leader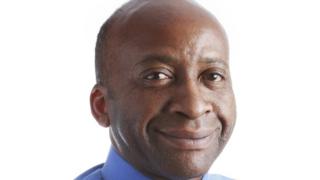 Joseph Ejiofor is set to be the new leader of Haringey Council after being elected leader of the local Labour group.
He replaces Claire Kober who quit amid a row over a controversial project known as the Haringey Development Vehicle (HDV).
Her administration clashed with members of Momentum over a £2bn deal with a private company to build 6,500 homes.
Mr Ejiofor will be officially sworn in as leader on 24 May.
On 4 May Labour were voted back in to run Haringey Council, despite losing seven seats to the Liberal Democrats.
Emine Ibrahim was also elected to be Mr Ejiofor's deputy.