Van thief crashes then 'jumps' in River Thames during escape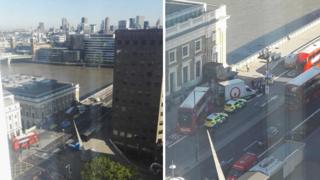 The driver of a stolen van ploughed into a number of vehicles, including a bus, abandoned the van and fell into the River Thames, police say.
The man made off on foot after crashing the van, "blew a kiss" to the people on London Bridge and then "jumped" into the river.
The driver was treated at the scene and taken to hospital after the incident which happened at about 08:00 BST.
He was arrested on suspicion of theft of a motor vehicle.
Syam Kumar, who was travelling to London Bridge station on the number 47 bus, said police arrived at the scene "within minutes".
He said: "We were at the London bridge bus stop and a man got out of a van, and went to the ledge.
"He turned around and blew a kiss to the people on the bridge and then jumped off."
The Metropolitan Police's marine policing unit, the Coastguard and paramedics attended the incident.