Ransom request after London City Airport laptop theft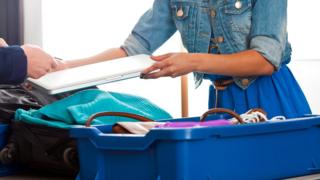 A woman who had her laptop stolen while going through airport security says the thieves have tried to blackmail her.
Fernanda Ardiles was at London City Airport on 2 April when her £1,000 MacBook Air was taken.
She said staff at the airport "didn't seem bothered" and initially refused to review CCTV footage.
The airport has apologised to Ms Ardiles and offered to pay £500 towards a replacement computer.
Ms Ardiles, who is studying economics at Utrecht University in the Netherlands, was travelling back home after spending the Easter break with her parents in London.
When the airport eventually agreed to look at the CCTV, it took staff "four or five days" to notify her that the footage showed another passenger taking her laptop, Ms Ardiles said.
However, she was told they would not be able to share the footage with her due to data protection laws, and that any further action would have to be taken by the police.
She managed to remotely lock her laptop and sent a message to its screen to whoever found it, which is when she received the request for a ransom.
Speaking on BBC Radio 4's PM programme on Friday, she said her main question to the airport was: "Why isn't there a standard procedure to review CCTV footage immediately?"
Liam McKay, spokesman for the airport, said the airport had now changed its policy to ensure the airport will share CCTV and any relevant information with police "immediately".
"We're really sorry for the experience Ms Ardiles has had," he said, adding that London City Airport was "very safe" with just three thefts having taken place in 2017.