Kittens dumped in Amazon Prime box in Belgravia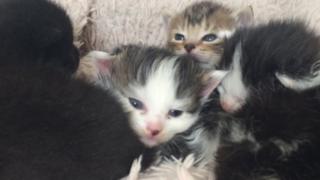 Seven kittens were taped inside an Amazon Prime box before being dumped at the side of a road in a wealthy London neighbourhood.
The kittens, who were three weeks old, were found in Belgravia by a passer-by who took them to an animal charity to be checked over.
The Blue Cross has nicknamed the animals Dopey, Bashful, Sneezy, Sleepy, Happy, Grumpy and Doc, after the dwarves in Snow White.
All of the kittens are in good health.
Kittens are normally weaned off their mother's milk when they are six to eight weeks old so they will need hand-feeding until they can look after themselves, the charity said.
They will soon be transferred from the charity's Victoria centre to an animal re-homing hub in Suffolk.
You may also be interested in: