Jamel Boyce knife attack: Friend detained for 10 years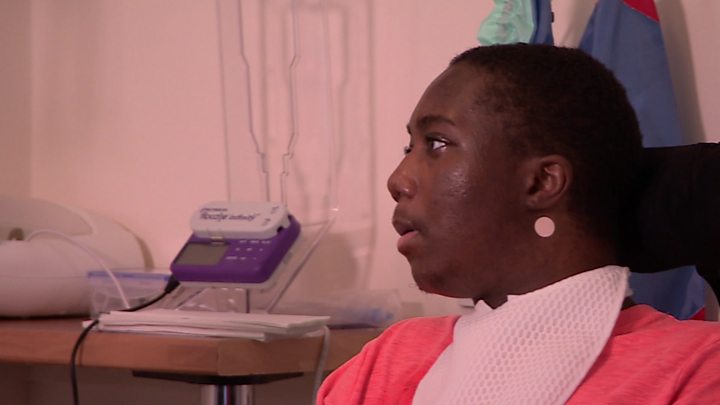 A man has been sentenced to 10 years in a detention centre for a stab attack which left his 17-year-old friend blind, paralysed and unable to speak.
Jamel Boyce went into cardiac arrest after being attacked during a "minor disagreement" in Clapham, south London, in October 2016.
Medics treated him at the roadside but the loss of oxygen to his brain for 14 minutes caused massive damage.
Tyrese Osei-Kofi, 18, was sentenced at the Old Bailey on Friday.
He had previously been found guilty of wounding with intent, but not guilty of attempted murder.
Jamel's father, Patrick Boyce, said the sentence was so lenient it was "disgusting".
Sentencing on Friday, Judge Richard Marks said to Osei-Kofi: "He was a friend of yours and why this terrible incident occurred the court will never know.
"It appears it arose out of a trivial argument."
Patrick Boyce, 55, from south London, told the BBC: "It's a young offenders institute so he'll have a PlayStation, a TV, and a nice gym to work out in.
"It's a joke. He gets out in three years, he's alive, he can carry on his life. But my life's finished.
"My life finished on the day he stabbed my son."
'Pack of animals'
Jamel, a business student known to his friends as Smiley, was at a McDonald's on Clapham High Street on the afternoon of the attack when there was a dispute with the people he was with.
Four hours later, shoppers saw Jamel pinned up against a wall by Osei-Kofi near the car park of a supermarket.
They told the jury others watched "like a pack of animals surrounding a buffalo".
Osei-Kofi, from East Dulwich, was heard shouting for a "chiv" (a knife) while holding his right arm against Jamel's neck to trap him against some railings.
He then stabbed him and fled the scene.
The court heard how in August 2016, just a few weeks before Jamel was attacked, Osei-Kofi had been convicted for possessing a bladed article.
A lock knife was also found hidden at his home address on top of a kitchen cupboard, which the judge said he had no doubt belonged to him.
Doctors concluded the lack of oxygen to Jamel's brain caused a 75-80% loss of brain function.
Jamel is unlikely to make any significant recovery and remains in a specialist long-term care facility where he requires 24-hour care.