New Labour mayor Rohksana Fiaz plans to abolish her role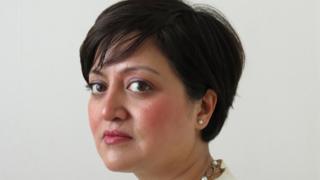 Labour's newly elected Mayor of Newham wants to hold a referendum to abolish her role.
Rohksana Fiaz, who won with 53,214 votes, said she was "proud and privileged" to be London's first directly-elected female mayor.
She takes over from Sir Robin Wales, who was deselected after 23 years in the post.
However, Ms Fiaz hopes to hold the referendum during her four-year term as part of a "democracy review".
Ms Fiaz was one of four Labour candidates to be elected as mayor in separate boroughs.
Elsewhere in east London, Philip Glanville and John Biggs were re-elected as mayors of Hackney and Tower Hamlets respectively.
In Lewisham, Damien Egan replaced Sir Steve Bullock as mayor.