'Tuxedo man' chases phone theft suspect in High Holborn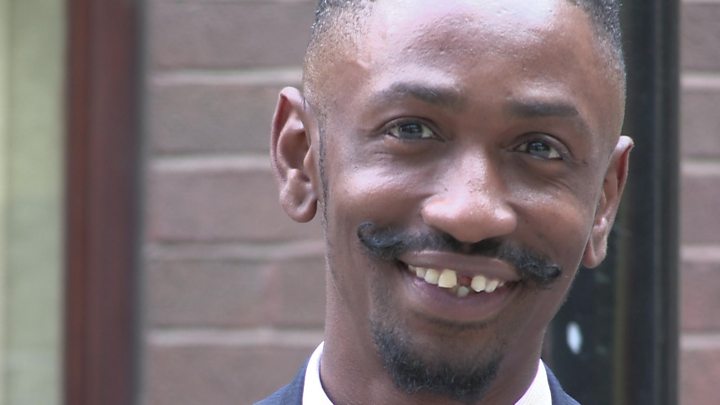 A suspected phone thief was chased down the street by a man in a "tuxedo" in central London.
Lewychino Martey-Thomas, who works in a suit shop in High Holborn, gave chase after a mobile phone was snatched from a woman's hand by someone on a bicycle.
Mr Martey-Thomas called on Londoners to "come together, take back our city".
"The power is within all of us to make a difference, but it starts with one," he added.
The 35-year-old was on his lunch break when he heard a woman shouting out: "My phone! He's got my phone!"
He walked down the road and saw that someone was tackling a cyclist off his bike onto the ground and a third person trying to kick him.
Mr Martey-Thomas, who was wearing a double-breasted blazer, intervened and placed the cyclist under citizen's arrest.
"I told him: 'You messed up'," Mr Martey-Thomas said.
Mr Martey-Thomas gave him a cigarette, "because he was about to get arrested, so he's under some immense stress."
The cyclist broke the cigarette, Mr Martey-Thomas said, and as he was turning his head to get him another one, he "was gone down the road".
Mr Martey-Thomas, who competed as a sprinter at school, ran after him for about 200 metres before catching him.
"I told him if you run from me, I will catch you, but he didn't believe me," Mr Martey-Thomas said.
Harry Stevens, 19, of Channel Islands Estate, London, has been charged with two counts of robbery . Mr Stevens was due to appear at Highbury Corner Magistrates' Court today.
Mr Martey-Thomas said the video of his chase has prompted thousands of people to follow him on social media.
You may also like: