Stabbed burglar Henry Vincent funeral: Teenager arrested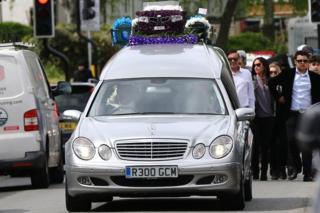 Tempers flared and missiles were thrown during the funeral of a burglar who was stabbed to death during a break-in in south-east London.
A teenager was arrested on suspicion of assault following an "incident" during the funeral of Henry Vincent, 37, police said.
Bricks and eggs were thrown towards journalists near the church despite a heavy police presence in the area.
The arrested youth was released under investigation.
There was concern of a possible confrontation between the bereaved and supporters of Hither Green homeowner Richard Osborn-Brooks.
The 78-year-old was initially held on suspicion of murder following Mr Vincent's death, but he was later released with no further action.
A cordon was set up around St Mary's Church in St Mary Cray for the service and members of the public and journalists were advised to stay away.
The body of Mr Vincent was carried in a silver Mercedes, which was followed by a long convoy of vehicles, with other people walking behind the cortege.
Some mourners shouted abuse after seeing photographers waiting near the church.
One man, who said he was on the way back from a job interview, said he was hit by an egg as the procession passed.
At the scene: Helena Lee, BBC News correspondent
As the funeral cortege arrived outside St Mary's Church in Bromley, police and liaison officers stood close by.
The hearse carrying Henry Vincent's coffin had a floral tribute with the word "Daddy".
Dozens of men on foot led the procession.
A police helicopter circled overhead and the media was advised by officers to stay away.
Missiles were thrown towards the press by some who appeared to be part of the funeral group.
A brick was hurled at one of our broadcast vehicles and we were verbally threatened by a man who had his face covered.
Floral tributes and balloons for Mr Vincent were repeatedly attached and then removed from a fence in South Park Crescent shortly after he died.
Police circled the area around Mr Osborn-Brooks' house during the morning, but there were no reports of trouble there.