Mustang driver Bradley Clifford guilty of Enfield murder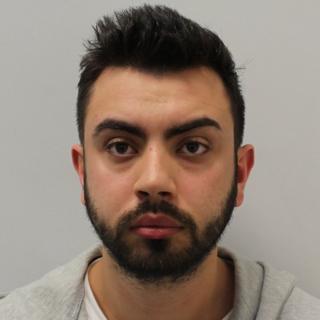 A driver has been found guilty of deliberately mowing down a moped after his "prized" Ford Mustang was damaged.
Bradley Clifford, 23, from Enfield, chased Soban Khan, 18, and Jahshua Francis, 19, after they struck his car with a bottle, the Old Bailey heard.
They were both flung into the air by the collision, and Mr Khan was beaten by Clifford as he lay on the ground fatally injured, the jury was told.
Clifford was found guilty of murder and attempted GBH with intent.
The jury heard he became "enraged" when his high-performance Ford Mustang EcoBoost's wing mirror was broken in the early hours of 5 August.
He then began a "rapid, brutal and unrelenting" pursuit through the streets of Enfield, north London.
Prosecutor Aftab Jafferjee QC said Clifford "pursued the moped... not to apprehend the two people on it, but to mow them down for daring to damage his prized vehicle".
Mr Khan and Mr Francis drove the moped into oncoming traffic and mounted a pavement as they tried to escape.
Mr Khan was beaten by Clifford as he lay "defenceless and fatally injured" on the ground after his moped became tangled with the car.
Mr Francis escaped "somewhat miraculously" with minor injuries, Mr Jafferjee said.
In a statement, Mr Khan's family said: "Soban was taken from us at the tender age of 18 years old. He was known as a great son, great brother and a key family member.
"We will never recover from the grief and loss of such a loving, strong, enthusiastic and talented young man."
Clifford will be sentenced on Friday.