Diane Abbott: Sentence over racially abusive letter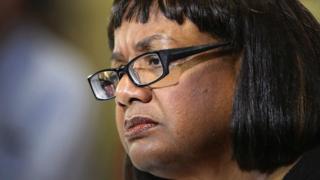 A pensioner who sent a racially abusive letter to MP Diane Abbott has been given a 12-month community order.
The letter sent last year by Roy Brown, 69, contained repeated references to "black vermin", a threat to "butcher" Ms Abbott and burn her house with the shadow home secretary "trapped inside".
Brown, of Ilford, Essex, previously pleaded guilty to sending an indecent or offensive letter.
His defence counsel said the offence was a "one-off".
District Judge Gary Lucie told Brown: "I do accept that you have shown full remorse, I do think you are sorry and that it won't happen again.
"The offence is aggravated by the mention of race in the letter, I accept that you are not racist but the wording in the letter does deal with characteristics of black people."
Ms Abbott, the Labour MP for Hackney North and Stoke Newington, told Parliament last year how she has experienced "racist and sexist" abuse.
The note which was sent to Ms Abbott's Westminster office in August 2017 stated that she would be "butchered like the cowardly vermin butchered PC Blakelock".
Keith Blakelock was a Metropolitan Police officer murdered in 1985 during a riot at a housing estate in Tottenham, north London.
Defence counsel Farhana Rahman-Cook said Brown had "vulnerabilities" and had become "teary" at a previous court hearing.
Brown was sentenced at Barkingside Magistrates' Court in Ilford on Wednesday.