Asperger's woman 'was dragged' out of BFI screening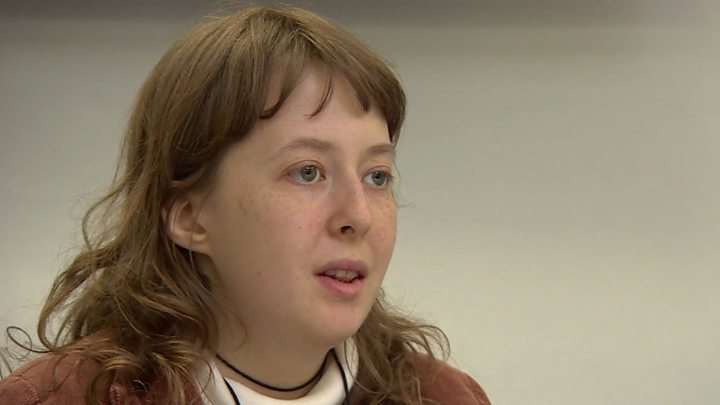 A woman with Asperger's syndrome who was removed from a cinema for laughing loudly says staff grabbed her arms and dragged her to the door.
Tamsin Parker, 25, was taken out of the British Film Institute (BFI) screening by security staff on Sunday.
When she tried to explain she was autistic an audience member called her "retarded", she told the BBC.
Although the BFI admitted it "got it wrong", a charity said businesses must do more to accommodate people's needs.
Ms Parker, an animator, was celebrating her birthday with friends by going to see her favourite film, the The Good, The Bad and The Ugly.
But after people in the audience complained about her loud bouts of laughter, two security staff grabbed her in a "rough" way and escorted her out.
"I thought I was being arrested. I didn't understand," Ms Parker told the Victoria Derbyshire programme.
"I tried to explain that I was autistic and a man shouted back: 'You're retarded.'
"People were applauding and jeering. I don't see how this is news - I've been mistreated all my life."
Ms Parker's mother, Lydia Parker, said: "Tamsin wants to feel like she's in a safe place.
"This was supposed to be an enjoyable, safe experience, and instead it turned into a nightmare."
She added: "No two people on the spectrum are alike - so how do you educate the public about that?"
The National Autistic Society said 16% of autistic people and their families think the public understands autism.
Chris Pike, from the charity, added that businesses must also get better at recognising and accommodating people's needs.
BFI staff said they were "horrified" by what happened and apologised "unreservedly".
Ms Parker, from Cricklewood, north-west London, accepted the apology but said she was still deciding whether or not to accept the BFI's invitation of a private screening of the classic Spaghetti Western.